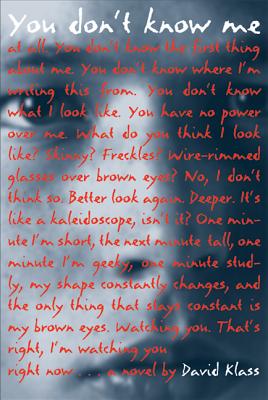 You Don't Know Me
Paperback

* Individual store prices may vary.
Description
Moving, wholly involving, original, and emotionally true, You Don't Know Me is a multilayered young adult novel that presents a winning portrait of an understandably angst-ridden adolescent.

John ("My father named me after a toilet!") wrestles with the certainty that no one really knows him -- not in his miserable home, and certainly not at school. It's true that no one can guess his hidden thoughts, which are hilarious, razor-sharp observations about lust, love, tubas, algebra, everything. And then there's his home: his father ran off years ago, so he's being raised by his mother, who works long hours, and by her boyfriend, whom John calls "the man who is not and never will be my father." This man is his enemy, an abusive disciplinarian who seems to want to kill John and, in a horrible final confrontation, nearly succeeds.
Praise For You Don't Know Me…
"Klass blazes past his previous literary efforts stylistically, introducing elements of magical realism to gradually reveal a quirky, talented, and likable guy. . . . The world may be 'muddled and painful,' but it is, 'in the end, a love song,'--a rewarding and important message for all readers." —School Library Journal, Starred Review

"[A] well-conceived novel. . . . The hero's underlying sense of isolation and thread of hope will strike a chord with nearly every adolescent." —Publishers Weekly

"John's inner voice is wonderfully cynical yet sweet and sad. . . . This book is for anyone--teenagers and adults alike--who has ever been faced with the absurdity of a normal life." —Voice of Youth Advocates

"[A] captivating first-person narrative with an original voice . . . [T]his is an engrossing story, in the vein of Laurie Halse Anderson's Speak, to which readers will immediately connect." —Kirkus Reviews

"John is a genuinely sympathetic, interestingly complex character, his highly mannered voice belongs to someone much older than 14, and it's wildly inconsistent, veering in tone from seriously realistic to the farcical, from wryly sophisticated and ironically self-deprecating to sophomoric. Weigh that against some brilliant, dramatically charged scenes and John's endlessly intriguing character." —Booklist

"I loved it because it describes the exact way I feel." —A YALSA Teen YA Galley Reader
Square Fish, 9780312653026, 288pp.
Publication Date: September 14, 2010
About the Author
David Klass is the author of many young adult novels, including You Don't Know Me, Losers Take All, and Grandmaster. He is also a Hollywood screenwriter, having written more than twenty-five action screenplays, including Kiss the Girls, starring Morgan Freeman and Ashley Judd, Walking Tall, starring The Rock, and Desperate Measures, starring Michael Keaton and Andy Garcia. Klass grew up in a family that loved literature and theater-his parents were both college professors and writers-but he was a reluctant reader, preferring sports to books. But he started loving the adventure stories his parents would bring home from the library-particularly Jack London, Robert Louis Stevenson and Alexandre Dumas. After his sister twice won a story contest in Seventeen magazine, Klass decided he would win it too, and when he was a senior in high school, he did, publishing his first story, "Ringtoss," in the magazine. He studied at Yale University, where he won the Veech Award for Best Imaginative Writing. He taught English in Japan, and wrote his first novel, The Atami Dragons, about that experience. He now lives in New York with his wife and two children.