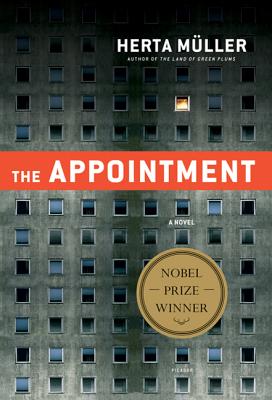 The Appointment
A Novel
Paperback

* Individual store prices may vary.
Other Editions of This Title:
Paperback (9/7/2002)
Description
From the winner of the IMPAC Award and the 2009 Nobel Prize in Literature, a fierce and devastating novel about a young woman's discovery of betrayal in the most intimate reaches of her life

"I've been summoned. Thursday, ten sharp." Thus begins a day in the life of a young factory worker during Ceausescu's totalitarian regime. She has been questioned before; this time, she believes, will be worse. Her crime? Sewing notes into the linings of men's suits bound for Italy. "Marry me," the notes say, with her name and address. Anything to get out of Romania.

As each tram stop brings the young woman closer to the appointment, her thoughts stray to her father and his infidelities; to her friend Lilli, shot trying to flee to Hungary; to her grandparents, deported after her own husband informed on them; and to Paul, her lover, her one source of trust despite his drunkenness. In her distraction, she misses her stop and finds herself on an unfamiliar street. And what she discovers there makes her fear of the interrogation pale by comparison.

Bone-spare and intense, The Appointment powerfully renders the humiliating terrors of a crushing regime and its corrosive effects on family and friendship, sex and love.
Praise For The Appointment: A Novel…
"Herta Müller's prose is as haunting as a cloud that won't go away, brittle like ice that won't ever crack, and sharp like plum brandy you'll never wish to forget. Hers is the voice of a world forever slipping into a vertigo of silent rage while desperately struggling to be human—a world which confuses kindness with cruelty because it has already confused good and evil." —André Aciman, author of Out of Egypt

"A brooding, fog-shrouded allegory of life under the long oppression of the regime of Nicolae Ceausescu." —The New York Times

"The Appointment echoes Kafka's The Castle and The Trial in its account of someone summoned repeatedly for ominous interrogations. Müller scatters narrative bombshells across a field of dreams." —San Francisco Chronicle

"A slim, masterfully written tale." —Newsweek

"A taut and brilliant book." —Chicago Tribune

"Powerful. . . Müller achieves something beautiful. She has wrested poetry from one woman's desire to remain human in an inhuman system." —Newsday

"With terse poetry, Müller brings to life a profoundly moving world. . . The lyrical beauty of the prose and its unflinching moral and emotional honesty carry the reader." —Bookforum
Picador, 9780312655372, 240pp.
Publication Date: November 23, 2010
About the Author
Herta Müller is the winner of the 2009 Nobel Prize in Literature, as well as the International IMPAC Dublin Literary Award and the European Literature Prize. She is the author of, among other books, The Hunger Angel and The Land of Green Plums. Born in Romania in 1953, Müller lost her job as a teacher and suffered repeated threats after refusing to cooperate with Ceausescu's secret police. She succeeded in emigrating in 1987 and now lives in Berlin.

Philip Boehm has translated more than thirty novels and plays by German and Polish writers, including Herta Müller, Franz Kafka, and Hanna Krall. For these translations he has received numerous awards, including NEA and Guggenheim fellowships and most recently the Helen and Kurt Wolff Translator's Prize. He also works as a theater director and playwright.