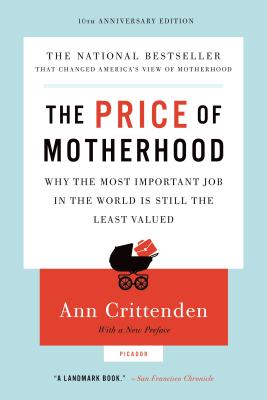 The Price of Motherhood (Paperback)
Why the Most Important Job in the World Is Still the Least Valued
Picador, 9780312655402, 336pp.
Publication Date: November 23, 2010
* Individual store prices may vary.
Description
THE 10TH ANNIVERSARY EDITION OF THE NATIONAL BESTSELLER THAT CHANGED AMERICA'S VIEW OF MOTHERHOOD
In the pathbreaking tradition of Backlash and The Second Shift, this provocative book shows how mothers are systematically disadvantaged and made dependent by a society that exploits those who perform its most critical work. Drawing on hundreds of interviews and research in economics, history, child development, and law, Ann Crittenden proves definitively that although women have been liberated, mothers have not.
Bold, galvanizing, and full of innovative solutions, The Price of Motherhood was listed by the Chicago Tribune as one of the Top Ten Feminist Literary Works since the publication of Betty Friedan's Feminine Mystique. This "bracing call to arms" (Elle) offers a much-needed accounting of the price that mothers pay for performing the most important job in the world.
About the Author
Ann Crittenden is the author of Killing the Sacred Cows: Bold Ideas for a New Economy. A former reporter for The New York Times and a Pulitzer Prize nominee, she has also been a financial writer for Newsweek, a visiting lecturer at M.I.T. and Yale, and an economics commentator on CBS News. Her articles have appeared in Fortune, The Nation, Foreign Affairs, McCalls, and Working Woman, among others. She lives with her husband and son in Washington, D.C.
Praise For The Price of Motherhood: Why the Most Important Job in the World Is Still the Least Valued…
"A landmark book." —San Francisco Chronicle
"Powerful and important . . . Written with a fine passion, The Price of Motherhood challenges the received ideas of economists, feminists, and conservatives alike and ought to be read by all of them." —The New York Times Book Review
"A scathing indictment of policies that cheat mothers . . . Crittenden turns out a fresh, persuasive argument. Sure to inspire vigorous debate." —Megan Rutherford, Time
"Fascinating . . . shows how women have been consistently denied social and, more important, monetary equality for raising their families." —Susan Straight, Los Angeles Times