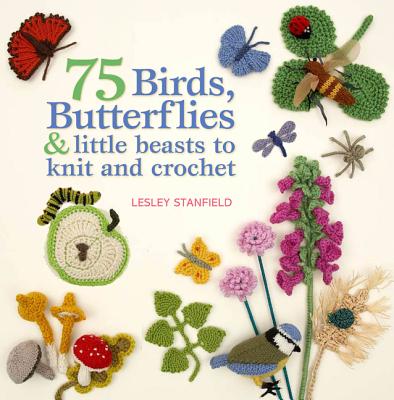 75 Birds, Butterflies & Little Beasts to Knit & Crochet (Paperback)
St. Martin's Griffin, 9780312656058, 128pp.
Publication Date: March 15, 2011
* Individual store prices may vary.
Description
Expand your knit and crochet repertoire with this menagerie of miniature bugs and beasts: from creepy crawlies and weird wrigglers to beautiful butterflies and splendid metallic-thread dragonflies. Use them to decorate clothes and accessories, give them as gifts---or use to decorate your gift wrap and greeting cards.
Everyone of these cute little beasts is thoughtfully displayed in a directory at the front of the book. And each is cross-referenced to a complete pattern and/or chart at the back of the book, with information on stuffing, finishing, and yarn requirements.
You'll also find a mixture of fun and fabulous ideas for using the creatures in a range of styles and settings: children's designs, quirky homewares, and elegant fashion and accessories.
About the Author
Lesley Stanfield is the author of several books on knitting and crochet, including our bestselling 100 Flowers to Knit & Crochet, 75 Birds, Butterflies & Little Beasts to Knit & Crochet, and 150 Knitted Trims. She is a long-time hand knitting designer and has been the knitting editor of several women's magazines including Woman and Family Circle. She is based in England.
Praise For 75 Birds, Butterflies & Little Beasts to Knit & Crochet…
"My favorite projects are the fruit and vegetables. The designs look so realistic! These would be great to make and include in a child's play kitchen. They are a much better option than the hard, plastic play food you often see. One thing that I love about this book is that each project is presented with two types of instructions---a chart and written instructions. People learn best different ways, so I really appreciate that the author has included both." —Wee Share blog
"Thinking about how to use these designs will get you brainstorming....I could see how this could become addicting." —Paula, Moliver, Hartford Knitting Examiner
"Just when you thought you have run out of projects, along comes a book like Lesley Stanfield's 75 Birds, Butterflies & Little Beasts to Knit and Crochet." —Petals to Picot blog
or
Not Currently Available for Direct Purchase