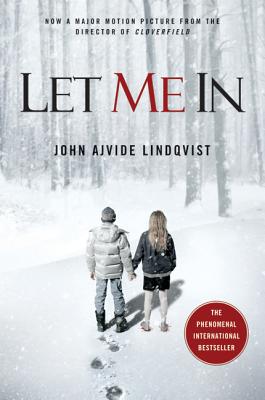 Let Me In
Paperback

* Individual store prices may vary.
Other Editions of This Title:
Digital Audiobook (8/30/2010)
Hardcover (10/16/2007)
CD-Audio (3/15/2014)
Description
Let Me In Takes Top Honors at Tribeca Film Festival and is now an Award-winning movie in both the U.S. and Sweden!

It is autumn 1981 when inconceivable horror comes to Blackeberg, a suburb in Sweden. The body of a teenager is found, emptied of blood, the murder rumored to be part of a ritual killing. Twelve-year-old Oskar is personally hoping that revenge has come at long last---revenge for the bullying he endures at school, day after day.

But the murder is not the most important thing on his mind. A new girl has moved in next door---a girl who has never seen a Rubik's Cube before, but who can solve it at once. There is something wrong with her, though, something odd. And she only comes out at night. . . .Sweeping top honors at film festivals all over the globe, Let Me In has received the same kind of spectacular raves that have been lavished on the book. American and Swedish readers of vampire fiction will be thrilled!

Following the success in Sweden, this movie was remade in 2010 starring Kodi Smit Mcpheem, Chloe Grace Moretz and Richard Jenkins changing its name from the Swedish Let The Right One In. The story has continued to reach new viewers in a London Musical and the book remains a vampire favorite among its readers.
Praise For Let Me In…
"Absolutely chilling. This page-turner grabs you from the onset and just won't let go. Vampires at their Anne Ricean best!" —L. A. Banks, author of the Vampire Huntress series

"Sweden's Stephen King…A classic horror-romance story. I love it. Could not stop reading. More please." —Amelia (Sweden)

"A must for vampire fans, even those who think they've seen it all." —Katherine Ramsland, author of Piercing the Darkness, The Science of Vampires, and The Vampire Companion

"A brilliant take on the vampire myth, and a roaring good story." —Kelley Armstrong, bestselling author of Haunted

"Readers are familiar with modern Sweden through its distinctive crime fiction. Now John Ajvide Lindqvist is taking a Gothic look at the country's dark side. Henning Mankell's gloomy police procedurals were the first to become international bestsellers in the middle 1990s and spearheaded an explosion, but the latest publishing phenomenon to come out of Sweden seems to be plumping for a different genre. John Ajvide Lindqvist has become an overnight cult figure." —The Age (Australia)

"Let Me In, a Swedish book taking the publishing world by storm, is a different, surprising, and sometimes delightful reading experience. Delightful would not normally be the first word that springs to mind when describing a blood-soaked plot.… It is Lindqvist's great skill that a strong thread of innocence continues alongside this horror." —The Sunday Telegraph (Australia)

"It is easy to compare Lindqvist to Clive Barker or Neil Gaiman. When you reach the last page, you are left with the wonderful tingling sensation that only comes with a brand-new love affair or a really great book." —Dagens Næringsliv (Norway)

"Impressive…can certainly compare with some of the best international authors…Lindqvist is as learned as Anne Rice as far as the most updated vampire mythology is concerned." —Dagens Nyheter (Sweden)

"One of the creepiest and most imaginative stories of the decade…echoes Stephen King at the height of his storytelling powers." —Sunday Herald-Sun (Australia)
St. Martin's Griffin, 9780312656492, 496pp.
Publication Date: August 31, 2010
About the Author
John Ajvide Lindqvist is the author of Let the Right One In and Handling the Undead. Let The Right One In, his debut novel, was an instant bestseller in Sweden and was named Best Novel in Translation 2005 in Norway. The Swedish film adaptation, directed by Tomas Alfredsson, has won top honors at film festivals all over the globe, including Best Narrative Feature at the Tribeca Film Festival. An American remake, Let Me In, written and directed by Cloverfield director Matt Reeves, was released in October 2010 to rave reviews. Lindqvist grew up in Blackeberg, a suburb of Stockholm and the setting for Let the Right One In. Wanting to become something awful and fantastic, he first became a conjurer, and then was a stand-up comedian for twelve years. He has also written for Swedish television. He lives in Sweden.

Ebba Segerberg is a translator of Swedish literature with a focus on Swedish crime fiction. Her translations include several installments of the Wallander series by Henning Mankell and Let Me In by John Ajvide Lindqvist. She has worked in a variety of other genres and formats including biography, short stories, and screenplays. She holds a PhD in Swedish literature and film studies from the University of California at Berkeley, and currently lives in Saint Louis, Missouri.