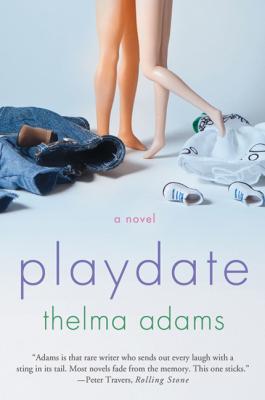 Playdate
Hardcover

* Individual store prices may vary.
Other Editions of This Title:
Paperback (3/13/2012)
Compact Disc (2/15/2011)
Description
"Adams is that rare writer who sends out every laugh with a sting in its tail. Most novels fade from the memory. This one sticks."—Peter Travers, Rolling Stone
Inside their picture-perfect homes, the residents of this quiet California suburb are not at all what they seem. Lance is a former weatherman, now a buff yogi, stay-athome dad, and manager of his daughter's Girl Scout troop's cookie distribution. Belle is his precocious and quick-witted daughter. Darlene is a classic Type A work-a-holic, she has little time or patience for the needs of her husband and daughter And just down the street are Alec and Wren. Alec, a womanizing businessman, is also the financial backer—and sometimes more—behind Darlene's burgeoning empire. Meanwhile, Wren is a doting mother and talented yogi, ready to lay down the mat for a quick session with Lance. As looming Santa Ana winds threaten to turn brushfires into catastrophe;
Playdate
proves that relationships are complicated and the bonds between families, spouses and children are never quite what they seem. What happens next door, beyond the hedges, in the romper room and executive office—it's all as combustible as a quick brushfire on a windy day.
Praise For Playdate…
When a novel starts with the Santa Ana winds about to bear down on a well-groomed California suburb, you know havoc will ensue. In the manner of Tom Perotta's Little Children (2006), Playdate follows the complicated, about-to-explode life of a modern-day, stay-at-home, suburban dad. Nice-guy Lance has given up his career as a TV weatherman to help his high-powered wife, Darlene, start a new business. His days are consumed with caring for their daughter, Bella; trying to impregnate his reluctant wife; and having tantric sex with the wife of his wife's business partner. The early introduction of tantric yoga (i.e., sex) puts the novel squarely in the satire category, but Adams is not completely content to let the story rest there….Discussions of modern parenting, marriage, and gender roles fill almost every chapter as the impending storms threaten everything from Darlene's new business to Bella's birthday party….The novel is an enjoyable… romp through modern suburban life.
--Booklist
Hyde Park resident Thelma Adams knows and loves the movies. She's film critic for Us Weekly, and hosts the annual Amazing Women In Film panel at the Woodstock Film Festival. As her very California novel opens, the hills begin to burn, a box turtle awakens inside a Barbie Dream House, and an 11-year-old walks in on a classic primal scene. Astute readers might get the distinct impression that they're in for a red-hot and wildly comic ride, and astute readers would be right.
Our hero Lance is an at-home dad to Belle, unfortunate witness to the primal scene and owner of the aforementioned box turtle. She's turning 11, and is at a loss in the "finely calibrated scale of playground fabulousness" at Rancho Amigo Elementary (or "Raunchy Gringo Penitentiary," as a graffiti artist has opined on the signboard). Her family has recently relocated from laid-back Barstow, and Belle's having a tough time adjusting to faster and perhaps shallower waters.
To her father's credit, he devotes considerable concern to his daughter's plight. Between Tantric sessions with his neighbor Wren and utilitarian, stress-packed baby- making encounters with his wife, Darlene, he's running the Girl Scout Cookie drive. Despite the social stigma of being an at-home dad, his devotion to Belle is deep; this former surfer boy is likeable despite his flaws.
Darlene is a piece of work in her own right. As driven as Lance is phlegmatic, her business aspirations were the driving force behind the move that has left both her daughter and husband adrift. (Lance was a TV weatherman in Barstow; the larger markets here have no use for him). Darlene has stars in her eyes. A slick-talking businessman, who also happens to be Wren's husband, has convinced her to franchise the concept she had a hit with back in Barstow: a kid-centric diner with gourmet food and a bar/lounge for parents. Her original had soul and funk; under Slick Businessman's guidance, the franchise version seems in danger of resembling Chuck E. Cheese.
As the wildfire rages, it's crunch time for Darlene's ambitions. Opening day has been timed to coincide with Belle's 11th birthday. To suit Mommy's business agenda, underwhelmed but compliant Belle must tolerate a glam party with a Barbie cake and a live performance by Barry Beige and his Scary Monsters.
Against the many tensions pulling Lance and Darlene apart, Adams sets the very genuine underlying love that brought them together—and the abiding love both feel for their daughter. It's a sharply drawn tongue-in-cheek portrait of a family on the brink of chaos or epiphany, in a psychological pressure cooker that's reflected and amplified by the growing menace of the Witch Creek Fire.
Adams writes with cinematic flair, great visuals, and dialogue that zings. Interior glimpses of the characters reveal how sadly and yet hilariously far they are from comprehending one another's true feelings and motivations.
If there's any quibble to be had with this very enjoyable tale, it's that Adams's full-on pace engenders a few disconnects from reality: How exactly does a Barbie Dream House stay "pristine" with a box turtle living in it full-time? And is there actually a part of America where a restaurant can have a play area for kids and a bar side by side without being burned to the ground by DWI activists?
Regardless, the characters are good company and the story engaging, and the climactic denouement is a blast. Lance and Darlene manage to fumble their way back into love as Belle rediscovers her moxie. This Playdate makes learning fun.
--Chronogram Magazine
Thomas Dunne Books, 9780312656669, 304pp.
Publication Date: January 18, 2011
About the Author
THELMA ADAMS has been "Us Weekly's "film critic since 2000; after six years reviewing at the "New York Post. "She has written for "Marie Claire, The New York Times, Cosmopolitan "and "Self. "She lives in New York with her family.
or
Not Currently Available for Direct Purchase