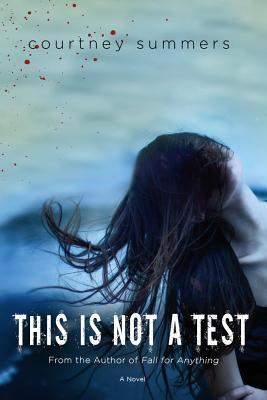 This Is Not a Test
A Novel
Paperback

* Individual store prices may vary.
Other Editions of This Title:
MP3 CD (9/20/2016)
Description
It's the end of the world. Six students have taken cover in Cortege High but shelter is little comfort when the dead outside won't stop pounding on the doors. One bite is all it takes to kill a person and bring them back as a monstrous version of their former self. To Sloane Price, that doesn't sound so bad. Six months ago, her world collapsed and since then, she's failed to find a reason to keep going. Now seems like the perfect time to give up. As Sloane eagerly waits for the barricades to fall, she's forced to witness the apocalypse through the eyes of five people who actually want to live. But as the days crawl by, the motivations for survival change in startling ways and soon the group's fate is determined less and less by what's happening outside and more and more by the unpredictable and violent bids for life—and death—inside. When everything is gone, what do you hold on to?
Praise For This Is Not a Test: A Novel…
"This Is Not a Test is both sexy and desolate, and it will blast a hole through your heart, yet somehow start to stitch it back together again" —Daisy Whitney, author of The Mockingbirds and The Rivals

"Courtney Summers is a ferocious talent in YA fiction. This Is Not a Test brought me to tears, caused me to gasp in shock in public places, and almost put a stop to my heart . . . Summers' voice is raw with emotion, and utterly right for the impending zombie apocalypse." —Nova Ren Suma, author of Imaginary Girls

"[Courtney Summers] blends all the perfection and simplicity that defines her writing so well with this added paranormal element for a snappy, exciting story I just couldn't stop reading, and then I got to the very end and realized that it was about so much more than just making it out alive." —Julie Cross, author of Tempest

"Intriguing.... It takes some artistic guts to set a portrayal of a suicidal teenager amid attacking zombies, but Summers has a history of risky choices.... Unusual and absorbing." —Kirkus
St. Martin's Griffin, 9780312656744, 336pp.
Publication Date: June 19, 2012
About the Author
Courtney Summers is the bestselling and critically acclaimed author of several novels for young adults, including Cracked Up to Be, All the Rage and Sadie. Her work has been released to multiple starred reviews, received numerous awards and honors--including the Edgar Award, John Spray Mystery Award, Cybils Award and Odyssey Award--and has been recognized by many library, 'Best Of' and Readers' Choice lists. She lives and writes in Canada.