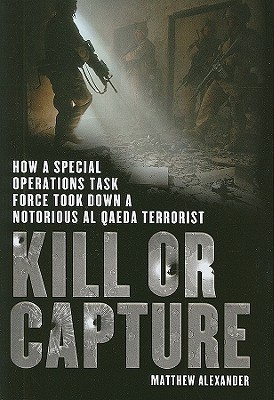 Kill or Capture: How a Special Operations Task Force Took Down a Notorious al Qaeda Terrorist (Hardcover)
How a Special Operations Task Force Took Down a Notorious al Qaeda Terrorist
St. Martin's Press, 9780312656874, 304pp.
Publication Date: February 1, 2011
* Individual store prices may vary.
or
Not Currently Available for Direct Purchase
Description
The electrifying true story of the pursuit for the man behind al Qaeda's suicide bombing campaign in Iraq
Kill or Capture is a true-life thriller that tells the story of senior military interrogator Matthew Alexander's adrenalinefilled, "outside the wire" pursuit of a notorious Syrian mass murderer named Zafar—the leader of al Qaeda in northern Iraq—a killer with the blood of thousands of innocents on his hands. In a breathless thirty-day period, Alexander and a small Special Operations task force brave the hazards of the Iraqi insurgency to conduct dangerous kill-or-capture missions and hunt down a murderer.
Kill or Capture
immerses readers in the dangerous world of battlefield interrogations as the author and his team climb the ladder of al Qaeda leadership in a series of raids, braving roadside bombs, near death by electrocution and circles within circles of lies.
About the Author
MATTHEW ALEXANDER is an eighteen-year veteran of the Air Force and Air Force Reserves. A four-time combat veteran of Bosnia, Kosovo, and Iraq, he was awarded the Bronze Star Medal for his achievements in Iraq. He is the author of "How to Break a Terrorist."
Praise For Kill or Capture: How a Special Operations Task Force Took Down a Notorious al Qaeda Terrorist…
"A military interrogator recounts his work hunting terrorists in Iraq.
Air Force veteran Alexander ( How to Break a Terrorist , 2008) chronicles how his interrogation task force helped the U.S. Army track down a Syrian terrorist known as Zafar. Believed to be responsible for thousands of deaths, Zafar was the leader of al-Qaeda in northern Iraq. The author, using his interrogative skills and knowledge of the Iraqi culture, was tasked to find him. The search followed an invariable routine: Alexander, his teammate Mike, their two interpreters and a contingent of soldiers would ride in an armed personnel carrier through Kirkuk, where Zafar was known to operate. Arriving at a house, the interrogators would wait while the soldiers secured the premises and inhabitants. Then they would enter and begin asking questions. Usually, the author and Mike would work separately, giving them a chance to test their information. The person they were most interested in might not bend, but a wife, a brother or other family member might. Many of their techniques drew on lessons learned from police work in the United States, using observation and street-smart psychology to get past the surface of the subject's answers. Alexander is especially proud that he and his team never resorted to torture ("I strongly oppose the use of torture or abuse as interrogation methods for both pragmatic and moral reasons"). During the course of his many investigations, readers will get a sense of life on an Army base in hostile territory, a situation that alternates between boredom and frantic action. Readers will also come to respect Alexander and his colleagues, who lived by their wits in a treacherous environment while refusing to bend the rules to gain a momentary edge on their adversaries, and for the Iraqi people, who are doing their best to survive and make a new life after the war.
A gripping story that provides insight into a much-misunderstood but crucial job." --Kirkus Reviews
Coverage from NPR
Advertisement