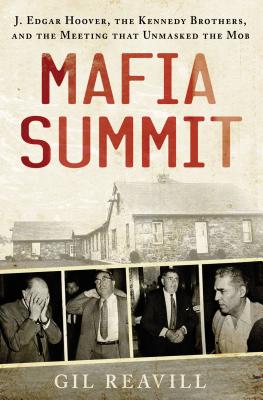 Mafia Summit: J. Edgar Hoover, the Kennedy Brothers, and the Meeting That Unmasked the Mob (Hardcover)
J. Edgar Hoover, the Kennedy Brothers, and the Meeting That Unmasked the Mob
Thomas Dunne Books, 9780312657758, 303pp.
Publication Date: January 22, 2013
* Individual store prices may vary.
or
Not Currently Available for Direct Purchase
Description
"Mafia Summit" is the true story of how a small-town lawman in upstate New York busted a Cosa Nostra conference in 1957, exposing the Mafia to America
In a small village in upstate New York, mob bosses from all over the country Vito Genovese, Carlo Gambino, Joe Bonanno, Joe Profaci, Cuba boss Santo Trafficante, and future Gambino boss Paul Castellano were nabbed by Sergeant Edgar D. Croswell as they gathered to sort out a bloody war of succession.
For years, FBI director J. Edgar Hoover had adamantly denied the existence of the Mafia, but young Robert Kennedy immediately recognized the shattering importance of the Appalachian summit. As attorney general when his brother JFK became president, Bobby embarked on a campaign to break the spine of the mob, engaging in a furious turf battle with the powerful Hoover.
Detailing mob killings, the early days of the heroin trade, and the crusade to loosen the hold of organized crime, fans of Gus Russo and Luc Sante will find themselves captured by this momentous story. Reavill scintillatingly recounts the beginning of the end for the Mafia in America and how it began with a good man in the right place at the right time.
About the Author
GIL REAVILL is an author, screenwriter, and playwright. His work has been widely featured in magazines and he is the author of Aftermath, Inc.: Cleaning Up After CSI Goes Home. Reavill co-authored Beyond All Reason: My Life With Susan Smith and the screenplay that became the 2006 film Dirty, starring Cuba Gooding, Jr. He lives in Westchester County, New York with his wife, Jean Zimmerman, and their daughter.
Praise For Mafia Summit: J. Edgar Hoover, the Kennedy Brothers, and the Meeting That Unmasked the Mob…
"A well-written, well-researched book about the watershed event in the tiny upstate town of Apalachin, NY that pushed J. Edgar Hoover to admit the existence of the Mafia."
—Gang Land News

"Screenwriter and playwright Reavill (Aftermath, Inc.: Cleaning Up After CSI Goes Home, 2007, etc.) vividly recreates that miasmic era of ignorance and innocence with all the blunt-end aplomb befitting coldblooded killers and crooked lawmen. . .Lively, detailed reporting sets intriguing characters on both sides of the law on an inexorable crash course for the sleepy woodlands of upstate New York. Some of the intimate portraits stretch back before World War II and from as far away as Sicily, but the colorful writing makes the events as accessible and immediate as if they were unfolding today. In addition to requisite stories of bloody mob hits and ruthless grabs at power, there are shocking reversals of fortune, incredible examples of collusion between the mob and the U.S. government, and an eye-opening look at how the Mafia built its highly durable and lucrative narcotics trade. While none of that came to a screeching halt on that fateful day in Apalachin, Croswell's dogged determination forced law enforcement agents to confront the mob like never before. An exciting, comprehensive chronicle of one of the most pivotal events in mob history."
—Kirkus

"The infamous Apalachin gangster conclave of 1957 is best remembered for the images of hoods in $1000 suits scrambling through the muddy upstate New York woods after the cops closed in. Gil Reavill's Mafia Summit at last fleshes out the story to give us the gang wars that led up to the gathering and the law enforcement turf battles that followed it. Here is gangland history that is compelling, thoughtful and well-grounded in scrupulous research. With a lively cast of characters that includes ruthlessly ambitious bosses such as Vito Genovese and ambitiously ruthless politicians such as Bobby Kennedy, Mafia Summit is a set-the-story-straight page-turner."
—Gus Russo, author of The Outfit and Supermob

"A dramatic investigation into one of the most notorious Mafia gatherings, shining a spotlight on the mob—with much fresh material"
—Tim Newark, author of Boardwalk Gangster and Mafia Allies

"Gil Reavill's Mafia Summit is the best, and best-written, true-crime story I've ever read. It's as suspenseful, detailed, racy and knowing as a novel by Hammett or Chandler. At its heart is a bona fide American hero, Sgt. Edgar Croswell.  Sgt. Croswell's tireless investigation of the mobster bosses who met at the tiny upstate New York hamlet of Apalachin provides a unique window into the "turning point in American law enforcement's battle against organized crime."  MAFIA SUMMIT is a terrific read about one very good policeman's courageous fight to put many very bad criminals exactly where they needed to be – behind bars."
—Howard Frank Mosher, author of Walking to Gatlinburg
Advertisement