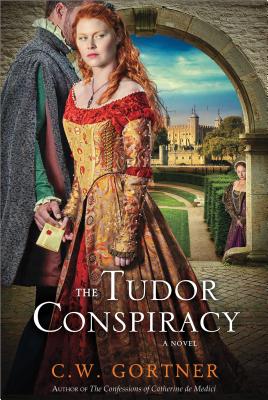 The Tudor Conspiracy
A Novel (The Elizabeth I Spymaster Chronicles #2)
Paperback

* Individual store prices may vary.
Other Editions of This Title:
Hardcover (7/16/2013)
Compact Disc (7/16/2013)
Compact Disc (7/16/2013)
MP3 CD (7/16/2013)
Description
Hunted by a shadowy foe in Bloody Mary's court, Brendan Prescott plunges into London's treacherous underworld to unravel a dark conspiracy that could make Elizabeth queen—or send her to her death in C.W. Gortner's The Tudor Conspiracy, the second book in The Elizabeth I Spymaster Chronicles.

England, 1553: Harsh winter encroaches upon the realm. Mary Tudor has become queen to popular acclaim and her enemies are imprisoned in the Tower. But when she's betrothed to Philip, Catholic prince of Spain, putting her Protestant subjects in peril, rumors of a plot to depose her swirl around the one person whom many consider to be England's heir and only hope—the queen's half-sister, Princess Elizabeth.
Haunted by his past, Brendan Prescott lives far from the intrigues of court. But his time of refuge comes to an end when his foe and mentor, the spymaster Cecil, brings him disquieting news that sends him on a dangerous mission. Elizabeth is held captive at court, the target of the Spanish ambassador, who seeks her demise. Obliged to return to the palace where he almost lost his life, Brendan finds himself working as a double-agent for Queen Mary herself, who orders Brendan to secure proof that will be his cherished Elizabeth's undoing.
Plunged into a deadly game of cat-and-mouse with a mysterious opponent who hides a terrifying secret, Brendan races against time to retrieve a cache of the princess's private letters, even as he begins to realize that in this dark world of betrayal and deceit, where power is supreme and sister can turn against sister, nothing—and no one—is what it seems.
Praise For The Tudor Conspiracy: A Novel (The Elizabeth I Spymaster Chronicles #2)…
"The finely detailed historical setting pulses with the treachery, political upheaval, fear and madness that were all an integral part of Mary's reign. In Gortner's capable hands, it all becomes very real and the reader is easily drawn into the suspense and intrigue. The Tudor Conspiracy is well done and engaging." —Romantic Times (4 ½ stars)
"The Tudor Conspiracy weaves a suspenseful, tangled skein of intrigue. It is a vibrant historical mystery and crime-thriller with an A-list cast of characters. Here are Elizabeth Tudor and her Robert Dudley in a light you've seldom seen them." —Margaret George, author of Elizabeth I
"C.W. Gortner has done it again! Intrigue at the Tudor court never looked more lethal than in his capable hands, as forbidden desires and deadly rivalries turn sister against sister and plunge our bold hero into a labyrinth of deceit. Full of breathtaking action, dark twists and unexpected revelations, this is an unputdownable read!" —Michelle Moran, author of Nefertiti
"In C.W. Gortner's skillful hands, the plots and counterplots come to seething life, with Brendan using every ounce of his brains and courage to protect those he loves while struggling to stay alive. . . . Lovers of Tudor history and suspense fiction will be riveted by this swift-paced, sexy, enthralling novel." —Nancy Bilyeau, author of The Crown
"Suspense, intrigue, betrayal, and deadly rivalry: what more can you ask for? From the serpentine halls of the court to the vicious back alleys and stews of Tudor London, Gortner has brewed a swashbuckling, perilous adventure that you simply can't put down!" —M.J. Rose, author of The Book of Lost Fragrances
"C.W. Gortner has an unmatched talent for bringing the past to life. The Tudor Conspiracy is historical fiction at its best: a compelling story masterfully told, vivid characters fully drawn, and an accurate depiction of history of the time. A novel not to be missed." —Tasha Alexander
St. Martin's Griffin, 9780312658496, 352pp.
Publication Date: July 16, 2013
About the Author
C. W. Gortner is the author of the acclaimed historical novels The Last Queen and The Confessions of Catherine de Medici. He holds an MFA in writing with an emphasis on Renaissance studies from the New College of California. In his extensive travels to research his books, he has danced a galliard in a Tudor great hall and experienced life in a Spanish castle. He is also a dedicated advocate for animal rights and environmental issues. Half Spanish by birth, he lives in Northern California.