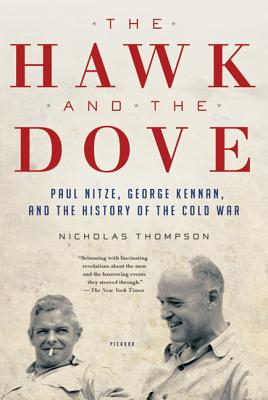 The Hawk and the Dove
Paul Nitze, George Kennan, and the History of the Cold War
Paperback

* Individual store prices may vary.
Other Editions of This Title:
Digital Audiobook (9/28/2009)
MP3 CD (9/29/2009)
Compact Disc (9/29/2009)
Description
Only two Americans held positions of great influence throughout the Cold War. The two men embodied opposing strategies for winning the conflict. Yet they dined together, attended the weddings of each other's children, and remained lifelong friends.

Paul Nitze was a consummate insider who believed the best way to avoid a nuclear clash was to prepare to win one. George Kennan was a diplomat turned academic whose famous "X article" persuasively argued that we should contain the Soviet Union while waiting for it to collapse from within. A masterly double biography, The Hawk and the Dove "does an inspired job of telling the story of the Cold War through the careers of two of its most interesting and important figures" (The Washington Monthly).
Praise For The Hawk and the Dove: Paul Nitze, George Kennan, and the History of the Cold War…
"May be the most important political biography in recent memory." —The Washington Times

"The book is brimming with fascinating revelations about the men and the harrowing events they steered through." —The New York Times

"In this important and astute new study, Nitze emerges as a driven patriot and Kennan as a darkly conflicted and prophetic one." —The Washington Post

"Paul Nitze and George Kennan were the yin and yang of American foreign policy. They were also the only figures deeply involved in the Cold War from beginning to end, and so they make ideal focal points for Nicholas Thompson's lively and illuminating book." —Newsweek

"Few men did more to shape postwar U.S. Foreign policy than Paul Nitze and George Kennan. In tracing their dueling visions of America's role in the world, Nicholas Thompson provides a white-knuckle glimpse inside the 20th century's most dangerous moments." —Time Magazine

"Thoroughly engrossing … Thompson succeeds admirably in blending biography and intellectual history, painting colorful portraits of complicated men who embodied conflicting strains of American thinking about foreign policy." —The New York Times Book Review

"The Hawk and the Dove does an inspired job of telling the story of the Cold War through the careers of two of its most interesting and important figures, who were not only present at the creation, but were each a witness--and, in Nitze's case, a participant--in its end." —The Washington Monthly

"Gripping, stirring … Thompson has delivered a book that's not just a labor of love for a grandfather; it's a vindication of a tradition of civic-republican comity that can't be coerced but is quietly stronger, even in this polarizing, frightening time, than anything the republic's noisier claimants have to offer." —Talking Points Memo Cafe

"A very good new book." —The National Review

"A lifetime of documentation combined with a personal narrative create a compelling story of two men who shared a lifetime of conflict and camaraderie." —The Daily Beast

"[An] outstanding dual biography … Excellent insights into these men and their roles in the era they helped shape." —Booklist

"The key to understanding modern American foreign policy is appreciating the complex 60-year friendship between George Kennan and Paul Nitze. Nicholas Thompson brilliantly captures their divergent personalities, clashing politics, and intellectual bonding. It is an insightful and important tale, but also a colorful and fascinating one--an intellectual buddy movie with enormous historical resonance." —Walter Isaacson

"With clarity and vigor, Nicholas Thompson has given us an engaging and insightful account of one of the great friendships of the modern age, the personal bond between Paul Nitze and George Kennan that illuminates the epochal stakes of the Cold War. This is a terrific book." —Jon Meacham

"George Kennan and Paul Nitze were the Adams and Jefferson of the Cold War. They were there for the beginning, they witnessed its course over almost half a century, and they argued with each other constantly while it was going on. But they maintained throughout a remarkable friendship, demonstrating--as few others in our time have--that it is possible to differ with civility. Nicholas Thompson's is a fine account of that relationship, carefully researched, beautifully written, and evocatively suggestive of how much we have lost because such civility has become so rare." —John Lewis Gaddis

"With grace and a keen appreciation of human nature, Nicholas Thompson has written a revealing, moving history of the Cold War through two fascinating men." —Evan Thomas

"They say that 'history is an argument without end.' In Thompson's skillful hands, this momentous argument between two old friends on the most critical issue of the last century is thus history at its best. Thompson's judicious and delicious depiction of Nitze and Kennan will fascinate anyone who cares about the Cold War or the ways that human beings shape the future." —Jonathan Alter

"This is dual biography at its best: riveting, thought-provoking, and fair-minded throughout. Nicholas Thompson renders these two remarkable men--their ideas, their arguments, their personal passions--vividly, in three dimensions. Through the prism of this powerful rivalry, Thompson illuminates the entire Cold War era--as well as our own." —Jeff Shesol

"The Hawk and the Dove is a wonderful idea for a book, wonderfully carried out. Nicholas Thompson has used illuminating new material to present each of his protagonists in a convincing, respectful, but unsparing way. Even more valuable, he has used the interactions and tensions between Paul Nitze and George Kennan to bring much of American 20th century foreign policy to life, with human richness ever present but with the big issues clear in all their complexity." —James Fallows

"Nicholas Thompson is an exceptionally good writer and a very clear thinker; both of these talents lift up The Hawk and the Dove, an energetic, fair, revealing and highly readable account of two men whose thinking and public lives helped to define the Cold War--and whose views on the international order remain strikingly relevant to the era that has followed." —Steve Coll
Picador, 9780312658861, 432pp.
Publication Date: September 28, 2010
About the Author
Nicholas Thompson is an editor at Wired magazine, a fellow at the New America Foundation, and a regular contributor to CNN. He has written articles for The New York Times, The Washington Post and numerous other publications. A grandson of Paul Nitze's, he lives in New York City with his wife and son.