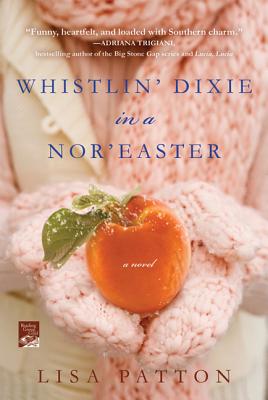 Whistlin' Dixie in a Nor'easter
A Novel (Dixie Series #1)
Paperback

* Individual store prices may vary.
Other Editions of This Title:
Compact Disc (9/28/2009)
MP3 CD (10/1/2009)
Compact Disc (10/1/2009)
Description
Whistlin' Dixie in a Nor'Easter is the story of a sweet Southern belle who leaves her beloved Memphis, Tennessee to follow her husband's dream of becoming the proprietor of a quaint Vermont inn.

Leelee Satterfield seemed to have it all: a gorgeous husband, two adorable daughters, and roots in the sunny city of Memphis, Tennessee. So when her husband gets the idea to uproot the family to run a quaint Vermont inn, Leelee is devastated…and her three best friends are outraged. But she's loved Baker Satterfield since the tenth grade, how can she not indulge his dream? Plus, the glossy photos of bright autumn trees and smiling children in ski suits push her over the edge…after all, how much trouble can it really be?

But Leelee discovers pretty fast that there's a truckload of things nobody tells you about Vermont until you live there: such as mud season, vampire flies, and the danger of ice sheets careening off roofs. Not to mention when her beloved Yorkie decides to pick New Year's Eve to go to doggie heaven-she encounters one more New England oddity: frozen ground means you can't bury your dead in the winter. And that Yankee idiosyncrasy just won't do.

The inn they've bought also has its host of problems: an odor that no amount of potpourri can erase, tacky décor, and a staff of peculiar Vermonters whose personalities are as unique as the hippopotamus collection gracing the fireplace mantle. The whole operation is managed by Helga, a stern German woman who takes special delight in bullying Leelee for her southern gentility. Needless to say, it doesn't take long for Leelee to start wondering when to drag out the moving boxes again.

But when an unexpected hardship takes Leelee by surprise, she finds herself left alone with an inn to run, a mortgage to pay, and two daughters to raise. But this Southern belle won't be run out of town so easily. Drawing on the Southern grit and inner strength she didn't know she had, Leelee decides to turn around the Inn, her attitude and her life. In doing so, she makes friends with her neighbors, finds a little romance, and realizes there's a lot more in common with Vermont than she first thought.

In this moving and comedic debut, Lisa Patton paints a hilarious portrait of life in Vermont as seen through the eyes of a southern belle readers won't soon forget. A charming fish-out-of-water tale of one woman who learns to stand up for herself-in sandals and snow boots-against the odds.
Praise For Whistlin' Dixie in a Nor'easter: A Novel (Dixie Series #1)…
"Funny, heartfelt and loaded with southern charm…You'll laugh out loud at as Leelee Satterfield plants her debutante flag on the snowy fields of Vermont. You'll be whistlin' "more, more!" by novel's end. I promise." —Adriana Trigiani, bestelling author of the Big Stone Gap series and Lucia, Lucia

"Just when you think there's nothing new under the sun, here it comes---the North/South split as seen from a brand new perspective. I absolutely DEVOURED this yummy novel, all at one sitting. Lisa Patton serves up genuine romance, wisdom, and humor at this B&B---with plenty of smart social observation on the side. Sweet, sassy, and very entertaining!" —Lee Smith, author of The Last Girls

"Lisa Patton draws you into each moment of this wonderfully heartbreaking yet hilarious journey of self-enlightenment. Whistlin' Dixie is truly a page-turner from beginning to end." —Jeff Bridges

"Memphis belle Leelee heads for Vermont, trading iced tea and kudzu for black ice, black flies, and a winter that lasts well into May. The results? An amusing, touching novel about a steel magnolia who faces an extreme culture clash and must decide if she wants to set down roots in red clay or snow. Whistlin' in Dixie in a Nor'easter is a fabulous, feel-good read." —Karin Gillespie, author of Dollar Daze

"Lisa Patton brings Northerners and Southerners together in this heartwarming and funny tale." —T. Lynn Ocean, author of the Jersey Barnes series


"In her debut novel Lisa Patton paints a beautiful portrait of friendship, and one woman's journey finding herself, with tears and laughter along the way. I loved it." —Christopher Cross, Grammy Award-winning Singer-songwriter

"Lisa Patton knows her way around "Southern Belles" and "Vermonsters" alike-and spares neither with her humor and wit in this fun romp....a promising debut for comic fiction." —Tracy McArdle, author of Real Women Eat Beef

"Whistlin' Dixie in a Nor'easter gives you a heroine to root for and a book that keeps you turning pages. A delightful read." —Linda Francis Lee, bestselling author of The Ex-Debutante
St. Martin's Griffin, 9780312658892, 336pp.
Publication Date: September 28, 2010
About the Author
LISA PATTON spent over twenty years in the music industry before discovering her passion for novel writing. A breast cancer survivor, Lisa is now the bestselling author of WHISTLIN' DIXIE IN A NOR'EASTER and YANKEE DOODLE DIXIE. Both novels have been featured on the Southern Independent Booksellers Alliance (SIBA) Bestseller List and in 2010 Lisa was selected by Target as an Emerging Author. SOUTHERN AS A SECOND LANGUAGE is the third and final book in what Library Journal calls, "the beloved Dixie series." Lisa's fourth novel, RUSH, set inside a fictional sorority house at Ole Miss, provides not only a gaze inside the most exclusive sorority Recruitment in the country, but at the lives of both the sisters and the all African American staff.
Born and raised in Memphis, Lisa spent time as a Vermont innkeeper until three sub-zero winters sent her speeding back down South. The proud mother of two sons and a little Havanese pooch named Rosie, she and her husband live in Nashville, Tennessee.