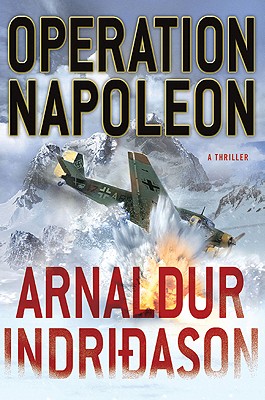 Operation Napoleon: A Thriller (Hardcover)
A Thriller
Minotaur Books, 9780312659103, 336pp.
Publication Date: September 27, 2011
* Individual store prices may vary.
or
Not Currently Available for Direct Purchase
Description
Prepare for blockbuster action in the vein of Clive Cussler and Alistair Maclean A mesmerizing international thriller that sweeps from modern Iceland to Nazi Germany. In 1945, a German bomber crash-lands in Iceland durign a blizzard. Puzzlingly, there are both German and American officers on board. One of the senior German officers claims that their best chance of survival is to try to walk to the nearest farm. He sets off, a briefcase handcuffed to his wrist, only to disappear into the white vastness. Flash forward to the present. The U.S. Army is clandestinely trying to remove the wreck of an airplane from an Icelandic glacier. A young Icelander, Elias, inadvertently stumbles upon the excavation and then promptly disappears. Before he vanishes, though, he manages to contact his sister, Kristin. She embarks on a thrilling and perilous adventure, determined to discover the truth of her brother's fate. Kristin must solve the riddle of Operation Napoleon, even if it means losing her own life.  Arnaldur Indridason has proven himself to be a master of the mystery genre with his critically acclaimed Inspector Erlunder series, which has sold more than 6 million copies. Now, world-class writing and nonstop action meet in this spellbinding page-turner, which catapults Arnaldur Indridason to the top ranks of international thriller writers.
About the Author
Arnaldur Indridason was initially a journalist for an Icelandic newspaper and then spent many years as a film reviewer. He won the Glass Key Award for Best Nordic Crime Novel for both "Jar City" and "Silence of the Grave," and in 2005 "Silence of the Grave" also won the Crime Writers Gold Dagger Award for best crime novel of the year. The film of "Jar City, "now available on DVD, was Iceland's entry for the 2008 Academy Award for Best Foreign Film. Arnaldur Indridason's crime fiction has sold in more than twenty-five countries. He lives in Iceland with his family, and the next novel in his Reykjavik series is forthcoming soon from Minotaur Books.
Praise For Operation Napoleon: A Thriller…
Outstanding Praise for Arnaldur Indridason
"As thrillers go, Operation Napoleon is about the best you can get."
--Telegraph-Journal (UK)
"Arnaldur Indridason is already an international literary phenom---and it's easy to see why. His novels are gripping, authentic, haunting and lyrical. I can't wait for the next."
---Harlan Coben
"A commanding new voice . . . puts Iceland on the map as a major destination for enthusiasts of Nordic crime fiction."
 --Marilyn Stasio, The New York Times Book Review, on Silence of the Grave
"Indridason keeps readers guessing until the very last pages."
--Washington Post Book World on The Draining Lake
"Indridason fills the void that remains after you've read Stieg Larsson's novels."
 --USA Today
"Every one of these writers is good [Hakan Nesser, Kjell Eriksson, Ake Edwardson, Helene Tursten, Karin Fossum], but in my book, Arnaldur Indridason is even better."
 --Joe Queenen, Los Angeles Times
"The market and appetite for [Steig Larsson's books] seems to be unappeasable, as does the demand for…the stories of Arnaldur Indridason."
---Christopher Hitchens, Vanity Fair
"Mesmerizing... [An] enthralling narrative."
--The Wall Street Journal on Voices
Advertisement