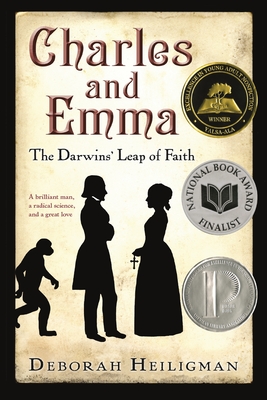 Charles and Emma (Paperback)
The Darwins' Leap of Faith
Square Fish, 9780312661045, 268pp.
Publication Date: November 22, 2011
Description
Charles Darwin published The Origin of Species, his revolutionary tract on evolution and the fundamental ideas involved, in 1859. Nearly 150 years later, the theory of evolution continues to create tension between the scientific and religious communities. Challenges about teaching the theory of evolution in schools occur annually all over the country. This same debate raged within Darwin himself, and played an important part in his marriage: his wife, Emma, was quite religious, and her faith gave Charles a lot to think about as he worked on a theory that continues to spark intense debates.
Deborah Heiligman's new biography of Charles Darwin is a thought-provoking account of the man behind evolutionary theory: how his personal life affected his work and vice versa. The end result is an engaging exploration of history, science, and religion for young readers.
Charles and Emma is a 2009 National Book Award Finalist for Young People's Literature.
About the Author
Deborah Heiligman has written more than twenty books for children. She graduated from Brown University, and started her writing career working for Scholastic News Explorer, the classroom magazine, but left when she wanted to be home with her children, and then she started writing her books. She is married to Jonathan Weiner, who won a Pulitzer Prize in 1994 for The Beak of the Finch.
Praise For Charles and Emma: The Darwins' Leap of Faith…
Praise for Charles and Emma: "The unlikely, and happy marriage of Charles Darwin and Emma Wedgewood comes to life in Heiligman's intelligent and fast-moving book. Emma, a devout Christian but a sympathetic editor, helped make the arguments in On the Origin of Species airtight. Meanwhile readers can almost effortlessly absorb Darwin's ideas and the culture in which they developed, along with a portrait of Victorian everyday life."—New York Times Book Review, 2009 Notable Book "This is the 'wow' biography on the Darwins—meticulously researched, richly rendered and rewarding every step of the way."—San Francisco Chronicle "Heiligman conveys the social order of the day, the comfort religion provided and even, yes, the evolution of Darwin's thoughts."—The Washington Post Book World "There's an extraordinary sense of how persistent and vigorous Darwin's scientific thought was, and of what an unusually loving and involved parent and husband he was."—The Chicago Tribune "Allows readers not only to understand Darwin's ideas, but to appreciate how Emma's responses tempered them."—Publishers Weekly, Starred Review "Heiligman has created a unique, flowing, and meticulously researched picture of the controversial scientist and the effect of his marriage on his life and work."—School Library Journal, Starred Review
 
"Here is a timely, relevant book that works on several levels: as a history of science, as a biography, and, last but not least, as a romance."—The Horn Book, Starred Review
 
"This intersection between religion and science is where the book shines, but it is also an excellent portrait of what life was like during the Victorian era, a time when illness and death were ever present, and, in a way, a real-time example of the survival of the fittest."—Booklist, Starred Review
 
"Come for the science, stay for the love story."—BCCB, Starred Review "This rich, insightful portrait of Charles and Emma Darwin's marriage explores a dimension of the naturalist's life that has heretofore been largely ignored. . . . Readers wanting to know more will discover two brilliant thinkers whose marital dialectic will provide rich fodder for discussions of science and faith."—Kirkus Reviews "A unique blend of romance, scientific observations, explanations of medical practices prevalent in the early nineteenth century, and opportunities to examine scientific discoveries and religious beliefs in detail."—VOYA (Voice of Youth Advocates) "The conflicts between science and religion are daunting subjects, but Deborah Heligman's beautiful book Charles and Emma unravels all the complexity through the lives of two remarkable people. At its heart, Charles and Emma is a love story—but it is amazing how much you learn by the time you finish. I enjoyed every page."—Professor Ari L. Goldman, Columbia University, author of The Search for God at Harvard "Not only among the very best [Darwin biographies], but it provides something new, which is quite an achievement in such a crowded field."—John Bonner, Professor Emeritus, Department of Ecology and Evolutionary Biology, Princeton University "It is magnificent and will be a much loved and read book by many people."—Rosemary Grant, Senior Research Biologist, Department of Ecology and Evolutionary Biology, Princeton University "I loved the book and feel strongly that it should be marketed to readers of many ages and not restricted to students."—Mary Lou Gleason, New York Academy of Sciences
Advertisement