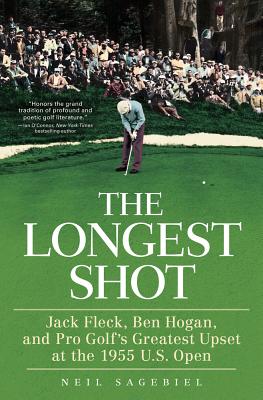 The Longest Shot (Hardcover)
Jack Fleck, Ben Hogan, and Pro Golf's Greatest Upset at the 1955 U.S. Open
Thomas Dunne Books, 9780312661847, 326pp.
Publication Date: May 22, 2012
* Individual store prices may vary.
Description
The inspirational story of the unknown golfer from Iowa who beat his idol in the 1955 U.S. Open
With the overlooked Jack Fleck still playing the course, NBC-TV proclaimed that the legendary Ben Hogan had won his record fifth U.S. Open and signed off from San Francisco. Undaunted, the forgotten Iowan rallied to overcome a nine-shot deficit over the last three rounds still a U.S. Open record and made a pressure-packed putt to tie Hogan on the final hole of regulation play. The two men then squared off in a tense, 18-hole playoff from which Fleck emerged victorious in one of the most startling upsets in sports history.
On par with the classic golf narratives of Mark Frost and John Feinstein, "The Longest Shot" will surprise and delight fans as they trace the improbable journey of an unheralded former caddie who played his way into the record books by out-dueling the sport's greatest champion of his time.
About the Author
NEIL SAGEBIEL is the founder and editor of "Armchair Golf Blog," one of the top golf blogs on the Internet. A former copywriter for a Seattle advertising agency and major newspaper, he is a freelance writer in Floyd, Virginia.
Praise For The Longest Shot: Jack Fleck, Ben Hogan, and Pro Golf's Greatest Upset at the 1955 U.S. Open…
**A BN.com Top 100 book and Top 25 Nonfiction book**

**Named one of Booklist's Top 10 Sports Books of 2012**

**Named one of the Best Books of 2012, According to Business Leaders by BloombergBusinessweek**
"Fifty-seven years after the fact (and in time for this year's Open at Olympic), two books about one of golf's most improbable upsets have surfaced simultaneously. Like the clash between Hogan and Fleck, the works pit an established, celebrated veteran against a relative upstart. And as in 1955, the upstart wins. But, unlike in 1955, it's not close. The Longest Shot is the first book from Neil Sagebiel, the founder and editor of Armchair Golf Blog, and he makes a strong bid to create shelf space for himself alongside 21st-century golf literati like John Feinstein, Mark Frost and Don Van Natta Jr. Sagebiel takes his time, working leisurely as golf demands, but does a thorough job. And his narrative pace during the last hour of that final round, as he bounces back and forth between Hogan in the locker room and Fleck on the course, may have a rhythm more suited to a tennis rally, but here it aces."
—The New York Times Sunday Book Review

"A compelling read…Golf historians can thank Sagebiel."
—PGA Magazine

"Long before a small circle of American kids dismantled the Soviets' Big Red Machine at Lake Placid, Jack Fleck's defeat of the mighty Ben Hogan at the 1955 U.S. Open was as stunning and stirring an upset as sports had ever seen. In The Longest Shot, Neil Sagebiel not only expertly reconstructs the million-to-one tale of the Iowa muni pro who denied Hogan his chance to become the only man to win the Open five times, he honors the grand tradition of profound and poetic literature in golf."
—Ian O'Connor, New York Times bestselling author of Arnie & Jack: Palmer, Nicklaus, and Golf's Greatest Rivalry

"The Longest Shot is the remarkable story of how Jack Fleck, the improbably named municipal course pro from Iowa, defeated the great Ben Hogan at the 1955 U.S. Open. Moment by moment, Neil Sagebiel lyrically describes the drama of the David-and-Goliath clash at the Olympic Club in San Francisco. Sagebiel persuades a new generation of readers that Fleck's triumph was not only the most unlikely result at a U.S. Open, but one of the greatest upsets in American sports history. The Longest Shot is destined to become a classic of golf literature."
—Don Van Natta Jr., New York Times bestselling author of First Off the Tee: Presidential Hackers, Duffers, and Cheaters from Taft to Bush and Wonder Girl: The Sporting Life of Babe Didrikson Zaharias

"Iowa golfer topples big-time golf legend. Zach Johnson over Tiger Woods at the 2007 Masters? Sure, that was a huge upset. But how does it compare to another Iowa golfer taking down an icon? Jack Fleck had never won on tour, was playing a few hours behind the immortal Ben Hogan—who had already accepted congratulations for winning the 1955 U.S. Open—and had to birdie the 18th hole just to tie the four-time Open champion. Then it was on to an 18-hole playoff the next day in which the unknown Iowa muni pro knocked off his idol by three strokes. In The Longest Shot, Neil Sagebiel details how this remarkable outcome unfolded."
—Bob Harig, senior golf writer, ESPN.com

"Lost in the pages of golf history is a remarkable story of an unknown municipal golf professional who won the 1955 U.S. Open at the Olympic Club in San Francisco. Author Neil Sagebiel's account of the courage and determination of Jack Fleck, who late on a Saturday afternoon came out of the pack to tie the legendary Ben Hogan, and then go onto defeat him in an 18-hole playoff, is dramatically recounted in The Longest Shot. It is a Cinderella story of a young professional from Iowa who against all odds wins the U.S. Open. It is also the bittersweet account of Ben Hogan's last hurrah."
—John Coyne, author of The Caddie Who Knew Ben Hogan

"The Longest Shot is more than the story of the greatest upset in U.S. Open history. It's a book for anyone who's ever risked everything to follow a dream. Golfers owe Sagebiel a thank you for lending a voice to this oft-forgotten tale."
—Bob Smiley, author of Follow the Roar: Tailing Tiger for All 604 Holes of His Most Spectacular Season

"Upsets are the lifeblood of sports, and golf has provided its share—but arguably none so startling as unheralded Jack Fleck's triumph over the legendary Ben Hogan in the 1955 U.S. Open at the Olympic Club in San Francisco. In "Dewey Beats Truman" fashion, NBC proclaimed Hogan the winner of his unprecedented fifth U.S. Open while there was still one man on the course, the unknown Iowan Fleck, who had a chance to tie. He did exactly that, with a birdie on the eighteenth hole, and then went on to beat Hogan by three strokes in the next day's playoff. Sagebiel wrings every ounce of drama and poignancy out of this remarkable sporting event, backtracking to tell the story of the lanky, teetotaling, socially insecure Fleck's improbable rise to success and judiciously reprising Hogan's life and career, including the nearfatal car accident and the inspirational comeback that followed it. And, of course, just like in a movie, Fleck idolized Hogan and was the first professional, other than Hogan himself, to use Hogan-designed clubs. But it's the on-course drama that golf fans will relish, Fleck, "whose long, fluid golf swing wrapped around his lean body like a loose belt," besting the man whose steely determination to win that fifth Open made him seem unbeatable. As fellow player Bob Rosburg observed about the outcome, "It defied everything anybody knew about golf." Great storytelling and great golf history."
—Booklist

"Neil Sagebiel of Floyd County captures the drama and the ambiance of professional golf in the mid-1950s in a book that will delight golfers but also enhance any reader's understanding of American society in post-World War II America. The story of Iowa club pro Jack Fleck's rise from obscurity to win the U.S. Open is the essence of the American Dream....Sagebiel brings to life the drama of the tournament and the long road to arrive there. He also re-creates a time when golf was just a sport, and the players enjoyed the game without the money and the fame that accompany modern-day athletes. Reading this book is like reading the golf coverage from a major newspaper in the 1950s when a keen ability to describe the players and their venue was the key to having readers."
—Roanoke Times

"The author's imaginative narrative…gives a fascinating insight into Hogan's character, avoiding death by inches in a 1951 car crash to become one of the game's great icons."
—GolfMagic.com
or
Not Currently Available for Direct Purchase