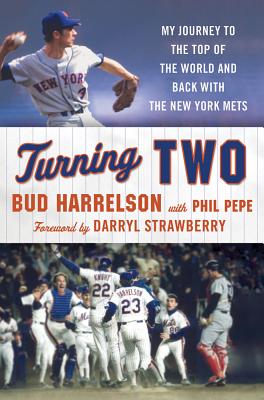 Turning Two (Hardcover)
My Journey to the Top of the World and Back with the New York Mets
Thomas Dunne Books, 9780312662400, 288pp.
Publication Date: April 10, 2012
* Individual store prices may vary.
Description
Only one man, Bud Harrelson, can say he was in uniform for both New York Mets world championships: as the shortstop who anchored the infield of the 1969 "Miracle Mets" and then as the third-base coach for the storied 1986 team. In "Turning Two," Harrelson delivers a team memoir as he takes fans through the early seasons, sudden success, lean years, and return to glory.
Born on D-day 1944, the Alameda County, California, native made his Major League debut with the Mets in 1965. At 147 pounds he was the team's Everyman---a Gold Glove, All-Star shortstop who won the hearts of fans with his sparkling defensive skills and trademark brand of gritty, scrappy baseball.
Harrelson recalls how the gentle yet firm guidance of manager Gil Hodges shaped a stunning success story in 69. Bud remembers the game's legends he played with and against, including Hall of Famers Tom Seaver, Nolan Ryan, Roberto Clemente, Bob Gibson (against whom he compiled a .333 career batting average), and his idol, Willie Mays---Harrelson's teammate on the 1973 "Ya Gotta Believe" team. Harrelson writes of his famous fight with Pete Rose in the playoffs that autumn as the Mets upset the Cincinnati Reds to win the National League pennant and squared off against the mighty Oakland A's in a dramatic seven-game World Series. After retiring as a player, Bud returned to Shea Stadium as Davey Johnson's third-base coach in 1985 and waved Ray Knight home for the winning run in the unforgettable Game 6 of the 1986 World Series.
Harrelson takes us in the dugout and on the field as he tells thrilling tales from his career and speaks candidly of the state of the game today. "Turning Two" is the ideal souvenir from the first half-century of the New York Mets---and from the pre-steroid era when players played the game the right way and did the little things to help their teams win.
Bud Harrelson in "Turning Two"
""
""On Gil Hodges
"Hodges accomplished his goal with compassion and a gentle hand and attained discipline simply by being such an imposing physical specimen. He rarely lost his temper, but on the few occasions that he did, you can bet he got our attention."
On Battling at the Plate
"I have always said I'll take God to three-and-two and take my chances. I might foul two off before He gave me ball four."
On 1969
"Torre hit a smash to me at short and I'm thinking, Don't screw up the throw; don't rush it. I knew I could catch it. I just wanted to be sure to make a good, firm throw right at the chest of Al Weis at second base. I tossed it to Weis and he turned it over to Clendenon at first for the double play and we had won the Mets' first title. We were the first champions of the National League East."
On Playing with Willie Mays
"I reached up to catch the ball and as I did, I stepped on Willie's foot. Oh, no
Hey, Pee Wee, what are you doing out here?' he squealed.
I didn't hear anything, ' I said.
I don't call for the ball, ' he said.
Well, ' I said, if you don't want to get stepped on again, you better start calling for it.'
The next time he was in center field and there was a pop fly, he called for it."
On Tom Seaver to M. Donald Grant
"Mr. Grant, you know why we're doing so well? See that little guy in the corner over there"---and he was pointing right at me---"that guy whose salary you cut? He's the reason we're winning."
On Game 6
"I leaned over to Mitchell and reminded him to be alert and be ready to take off if Stanley threw one in the dirt.
About the Author
BUD HARRELSON played in the Major Leagues from 1965 to 1980 and retired second on the all-time list of games played for the New York Mets. He was a member of the Mets coaching staff from 1985 to 1990 and served as Mets manager in 1990 and 1991. He lives in Long Island and is co-owner and senior vice president for baseball operations for the Long Island Ducks, a team in the Atlantic League of Professional Baseball. Harrelson was inducted into the New York Mets Hall of Fame in 1986.PHIL PEPE has reported on sports in New York for more than five decades and has authored more than fifty books, most of them on baseball.
Praise For Turning Two: My Journey to the Top of the World and Back with the New York Mets…
"With the mess still continuing in Queens, relive the Mets' glory days with this autobiography of Bud Harrelson (written with legendary NYC sportswriter Phil Pepe), who was in the orange and blue for both of the team's World Series wins: as a shortstop in 1969 and as a coach in '86."—am New York

"He's a New York baseball icon...I love him to death."—Darryl Strawberry, from the foreword 


"Harrelson, who will forever be known in baseball history as the man Pete Rose barreled into during the 1973 National League Championship Series, igniting a brawl that whipped the crowd at Shea Stadium into a trash-throwing frenzy, retraces his baseball career and reminisces about his time with baseball legends such as Casey Stengel, Tom Seaver (his friend and longtime roommate), and Willie Mays. … As a scrappy, scrawny shortstop for the New York Mets, he made two All-Star teams and won a World Series in 1969. Harrelson grabbed another championship in 1986 as a Mets' coach. … Harrelson's amiable appreciation for his life in baseball makes the book a safe bet for youngsters." – Publishers Weekly
or
Not Currently Available for Direct Purchase