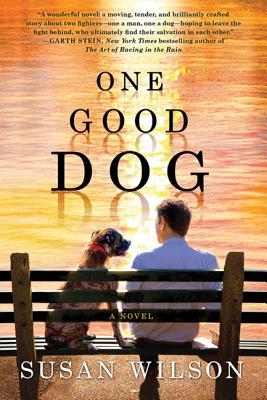 One Good Dog
A Novel
Paperback

* Individual store prices may vary.
Other Editions of This Title:
Digital Audiobook (3/1/2010)
Paperback (4/16/2019)
CD-Audio (1/5/2016)
Description
Acclaimed author Susan Wilson brings us a touching yet unblinkingly authentic tale of loss and rediscovery, of true friendship and learning what's truly important in life.

One note. Three words. And Adam March's well-ordered life and well-laid plans are shattered.

The very definition of a hard-nosed businessman, Adam March has no room in his life for anything but the cold drive to succeed. Not for his social-climbing wife or for his rebellious teenage daughter. Then, in an instant, he loses everything. Due to an untimely collision of arrogance, stress, circumstance, and a momentary loss of self-control, Adam finds himself alone, unemployed, and reduced to bussing tables in a homeless shelter, serving men he'd always gone out of his way to avoid.

One instant of opportunity. Enough for one dog to find his freedom.

Chance was born in an inner-city cellar, a mix of pit bull and God-knows-what. Bred to fight, and damn good at it, he lived in a dank, dark, and vicious world. Not that he wished for something better; that world was all he knew. But when the moment presented itself, Chance made the most of it in a new life on the street, for a little while.

Two lives. Two second chances.

Thrown together, Adam and Chance fill the holes in each other's lives. Adam gives Chance his first real home, a haven he never could have imagined, while Chance gives Adam a new start. And a new heart.

That's One Good Dog.
Praise For One Good Dog: A Novel…
"Those who ate up Marley and Me will want to check out Wilson's novel, which follows a disgraced millionaire who finds a friend in a scruffy pit bull." —EntertainmentWeekly.com

"…a love story between man and dog…you'll cry at the end." —USA Today

"One Good Dog belongs on the top of everyone's reading list." —Telegraph Herald (Dubuque, IA)

"Nowhere can we see the potential for our own redemption more clearly than in the eyes of our dog. Susan Wilson illustrates this truth poignantly and beautifully in this story of second chances." —Tami Hoag, New York Times #1 bestselling author of Secrets to the Grave

"Fans of Marley and Me will find a new dog to cheer for in Wilson's (Beauty ) insightful heart-tugger...Chance tells his story in his own words, which makes his mistreatment and return to the fighting pit powerfully disturbing. Combined with Wilson's unflinching portrayal of Adam's struggle to overcome his past, Old Yeller 's got nothing on this very good man and his dog story." —Publishers Weekly

"[One Good Dog] is a finely wrought story of second chances and also of the power of the human/canine bond, the amazing and myriad ways in which dogs can touch and make better people's lives. As Chance himself so aptly puts it, 'What else could I have done? I'm only canine, I had to help'." —Bark Magazine

"[One Good Dog] evokes both laughter and tears, but the ending assures you that humans and dogs are capable of redemption." —Library Journal

"Susan Wilson's evocative and deeply moving novel reminds us that even the most unlikely human can also find redemption, sometimes, with a little help from a canine friend." —Melissa Jo Peltier, New York Times bestselling co-author of Cesar's Way

"One Good Dog equals one great book!" —Rita Mae Brown, New York Times bestselling author of The Purrfect Murder

"One Good Dog will make you cry, will make you laugh, will make you feel things more than you thought possible---and it will make you believe in second chances." —Augusten Burroughs, New York Times bestselling author of Running with Scissors and A Wolf at the Table

"One Good Dog is a wonderful novel of healing and redemption." —Spencer Quinn, New York Times bestselling author of Dog on It

"Anybody who has ever loved a dog---or been 'a pack of two,' as Chance so aptly puts it ---will love One Good Dog. . . . I hope Susan Wilson sits and stays---forever." —Lisa Scottoline, New York Times bestselling author of SAVE ME

"One Good Dog is a terrific book that held me from beginning to end!" —Iris Johansen, New York Times #1 bestselling author of EVE

"I was so moved by Susan Wilson's writing: her understanding of the lost, in the language of the wild." —Luanne Rice, New York Times bestselling author of The Deep Blue Sea For Beginners
St. Martin's Griffin, 9780312662950, 336pp.
Publication Date: February 1, 2011
About the Author
Susan Wilson is the bestselling author of books including One Good Dog, Cameo Lake and Beauty, a modern retelling of Beauty and the Beast, which was made into a CBS-TV movie. She lives on Martha's Vineyard.
or
Not Currently Available for Direct Purchase