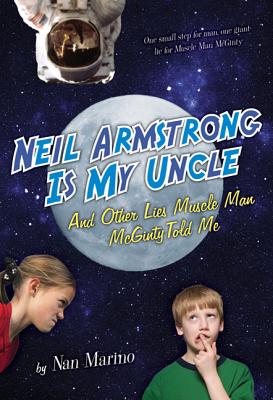 Neil Armstrong Is My Uncle and Other Lies Muscle Man McGinty Told Me (Paperback)
Square Fish, 9780312665487, 176pp.
Publication Date: September 18, 2012
Other Editions of This Title:
Hardcover (5/12/2009)
MP3 CD (12/1/2016)
MP3 CD (5/1/2009)
Compact Disc (5/1/2009)
Pre-Recorded Audio Player (7/1/2009)
MP3 CD (9/18/2012)
Compact Disc (9/18/2012)
* Individual store prices may vary.
Description
A tender story about a tough-as-nails girl forced to take one small step towards understanding during the summer of 1969.
"Muscle Man McGinty is a squirrelly runt, a lying snake, and a pitiful excuse for a ten-year old......the problem is that no one knows it but me. In the entire town of Massapequa Park, only I can see him for what he really is. A phony."
Tamara Ann Simpson is determined to expose Muscle Man McGinty, a foster boy new to her neighborhood, for the liar that she knows he is. Muscle Man tells the other kids his uncle is Neil Armstrong and he even has the audacity to challenge the entire block to a kickball game. So, why is Tamara the only one who can see through this kid?
It's the summer of 1969 and things are changing in Tamara's little town of Massapequa, Long Island, and in the world. Perhaps Tamara can take one small step towards a bit of compassion and understanding.
About the Author
Nan Marino is the author of Neil Armstrong Is My Uncle & Other Lies Muscle Man McGinty Told Me, which received a SCBWI Golden Kite Honor and was featured on the Bank Street Best Books and the New York Public Library 100 Titles for Reading and Sharing.  Nan is also a librarian who lives with her husband and a large dog in a town that borders the Pinelands of New Jersey.
Praise For Neil Armstrong Is My Uncle and Other Lies Muscle Man McGinty Told Me…
"It is rare to have a story told with sympathy from the viewpoint of a bully. This debut novel, set in upstate New York in the summer of 1969, does just that with wit and a light touch that never denies the story's sorrows." —Starred, Booklist
"Marino paints a detailed portrait of the seeming gulf that surrounds a person after loss and the surprising companionship one discovers in the face of desolation." —Starred, School Library Journal
"A lovingly portrayed look at life during a memorable time in American history; it deserves to be on your child's summer reading list." —BookPage
"Marino's novel brings a true voice to the pre-teenage girl of the 1960s. Tamara is both lovable and naïve, yet Marino creates a strong young woman who is set in her principles and unrelenting in achieving justice during a historic summer in America." —ALAN Online
"The authenticity of the time and the voice combine with a poignant plot to reveal a depth unusual in such a straightforward first-person narrative." —Kirkus Reviews