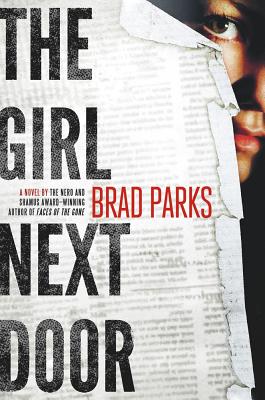 The Girl Next Door
A Mystery
Hardcover

* Individual store prices may vary.
Other Editions of This Title:
Paperback (1/8/2013)
Hardcover, Large Print (6/22/2012)
Description
Reading his own newspaper's obituaries, veteran reporter Carter Ross comes across that of a woman named Nancy Marino, who was the victim of a hit-and-run while she was on the job delivering copies of that very paper, the "Eagle-Examiner." Struck by the opportunity to write a heroic piece about an everyday woman killed too young, he heads to her wake to gather tributes and anecdotes. It's the last place Ross expects to find controversy--which is exactly what happens when one of Nancy's sisters convinces him that the accident might not have been accidental at all.
It turns out that the kind and generous Nancy may have made a few enemies, starting with her boss at the diner where she was a part-time waitress, and even including the publisher of the "Eagle-Examiner." Carter's investigation of this seemingly simple story soon has him in big trouble with his full-time editor and sometime girlfriend, Tina Thompson, not to mention the rest of his bosses at the paper, but he can't let it go--the story is just too good, and it keeps getting better. But will his nose for trouble finally take him too far?
Brad Parks's smart-mouthed, quick-witted reporter returns in "The Girl Next Door"--another action-packed entry in his award-winning series, written with an unforgettable mix of humor and suspense.
Praise For The Girl Next Door: A Mystery…
Praise for Eyes of the Innocent

"Engaging... A capable follow-up to this author's award-winning debut mystery."
—The Wall Street Journal

"Fast-paced, thoroughly satisfying... Carter Ross is not only a first-rate investigative reporter; he's also a first-rate comic. It's a rare mystery that provides a good laugh on almost every page. One can only hope that Brad Parks has more mysteries for Carter Ross to solve in future books."
—The [Newark] Star-Ledger

"Eyes of the Innocent is the complete package. With wonderful prose, witty observations, and a relentless drive, this book held me hostage until the last page. Well done, Brad Parks!"
—Michael Connelly

Praise for Faces of the Gone

"Impressive debut... Carter's fresh voice, his willingness to be entertained balanced by honest sympathy and some sharp editorializing, is the book's considerable strength. The action, including a string of bombings, is brisk; the villain's identity is elusive; and the settings (from the projects to National Drug Bureau offices) ring true. How could this be better?"
—Houston Chronicle

"Brad Parks [has] delivered a first-rate crime thriller.... Faces of the Gone is gritty and hard-boiled, but with a sly sense of humor. This strong and confident debut is sure to make an appearance on many 'best of' and awards lists. Parks is a bright new talent whom readers will hopefully be able to enjoy for years to come."
—Chicago Sun-Times

"Commanding, entertaining... Parks, former reporter at the Star-Ledger in Newark, shows he's made the transition to becoming a novelist with this impressive debut."
—South Florida Sun-Sentinel
Minotaur Books, 9780312667689, 336pp.
Publication Date: March 13, 2012
About the Author
Brad Parks is the first author to win both the Shamus Award and the Nero Award for Best American Mystery for his debut novel, "Faces of the Gone." A former reporter for "The Washington Post" and "The [Newark] Star-Ledger," he lives in Virginia, and "The Girl Next Door" is his third novel.
or
Not Currently Available for Direct Purchase