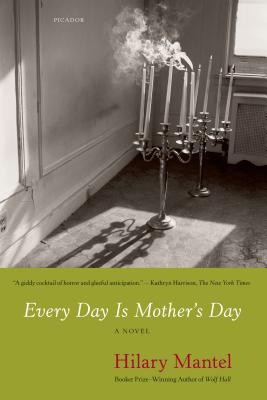 Every Day Is Mother's Day (Paperback)
St. Martin's Press, 9780312668037, 225pp.
Publication Date: August 31, 2010
* Individual store prices may vary.
Description
By the Booker Prize-Winning Author of WOLF HALL
Evelyn Axon is a medium by trade; her daughter, Muriel, is a half-wit by nature. Barricaded in their crumbling house, surrounded by the festering rubbish of years, they defy the curiosity of their neighbors and their social worker, Isabel Field. Isabel is young and inexperienced and has troubles of her own: an elderly father who wanders the streets, and a lover, Colin, who wants her to run away with him. But Colin has three horrible children and a shrill wife who is pregnant again--how is he going to run anywhere? As Isabel wrestles with her own problems, a horrible secret grows in the darkness of the Axon household. When at last it comes to light, the result is by turns hilarious and terrifying.
About the Author
Hilary Mantel is the critically acclaimed author of eight novels, seven of which are available in paperback from Henry Holt. Winner of the Hawthornden Prize, she lives in England. Ms. Mantel reviews for The New York Times and the New York Review of Books.
Praise For Every Day Is Mother's Day…
"A giddy cocktail of horror and gleeful anticipation."--Kathryn Harrison, The New York Times

"Mantel's writing is so exact and brilliant that, in itself, it seems an act of survival, even redemption. . . . Mantel is unflinching, and I like her that way."--Joan Acocella, The New Yorker

"Readers will surely be seduced by her sharp humor, reminiscent of Muriel Spark or Edna O'Brien, and her nail-biting narration. . . .Wrapped in the brisk plotting of a suspense thriller, a la Graham Greene." --Charlotte Innes, Los Angeles Times Book Review

"Mantel is without peer in her generation."--Janice Nimura, San Francisco Chronicle

"Hysterical, the dialogue is spot-on. . . . Muriel and her ma are cunning creations."--Margaret Foster

"Strange . . . rather mad . . . extremely funny . . . reminded me of the early Muriel Spark."--Auberon Waugh