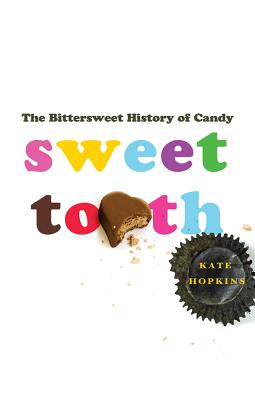 Sweet Tooth: The Bittersweet History of Candy (Hardcover)
The Bittersweet History of Candy
St. Martin's Press, 9780312668105, 312pp.
Publication Date: May 22, 2012
* Individual store prices may vary.
or
Not Currently Available for Direct Purchase
Description
A cultural history of candy-how it evolved from medicine and a luxury to today's Kit Kat bars and M&M's
Told through the Kate Hopkins' travels in Europe and the U.S.", Sweet Tooth" is a first-hand account of her obsession with candy and a detailed look at its history and development. The sugary treats we enjoy today have a prominent past entertaining kings, curing the ill, and later developing into a billion-dollar industry. The dark side of this history is that the confectionery industry has helped create an environment of unhealthy overindulgence, has quelled any small business competition that was deemed to be a risk to any large company's bottom line, and was largely responsible for the slave trade that evolved during the era of colonization.
Candy's history is vast and complex and plays a distinct part in the growth of the Western world. Thanks to the ubiquity of these treats which allows us to take them for granted, that history has been hidden or forgotten. Until now. Filled with Hopkins' trademark humor and accompanied by her Candy Grab Bag tasting notes, "Sweet Tooth" is a must-read for everybody who considers themselves a candy freak.
About the Author
Kate Hopkins's food blog "The Accidental Hedonist" has been named one of "Time Magazine's" 50 Coolest Websites. She is the author of "99 Drams of Whiskey" and lives in Seattle, Washington.
Praise For Sweet Tooth: The Bittersweet History of Candy…
Praise for Sweet Tooth:
"Kate Hopkins is excellent company – witty, self-deprecating and intensely curious – as she travels through Europe and the United States in search of the story of candy. Packed with nuggets of fascinating history, it is also a gentle chew on the nature of growing up and a search for her eleven-year-old self, who equated sugar with love and lived for the innocent pleasure of a sweet treat. Hopkins is not afraid to address the darker side of sugar's history, nor the bland hegemony and cynical marketing of today's mega-corporations – Cadbury World in England is like 'an ecstasy trip gone horribly wrong' - but she is still at heart unashamedly and infectiously in love with candy." —Matthew Parker, author of The Sugar Barons and Panama Fever
"Kate Hopkins's scrumptious first-person account of her pilgrimage to resolve a midlife crisis by replicating her childhood candy consumption is served alongside her research into the surprising and often bitter history of candy. Hopkins's post-journey epiphany: Adulthood is when one has the money but has lost the desire to buy every candy in the shop. Sweet Tooth is illustrated throughout with Kate's Candy Bag sidebars, which describe and rate other treats against York Peppermint Patties: for example 1 York Peppermint Patty is equal to 1 Cadbury Egg but 1,645 black licorice jelly beans. Sweet Tooth indeed!" —Elizabeth Abbott, author of Sugar: A Bittersweet History
"A pleasing chronology of candy through the ages." —Kirkus Reviews
"The author's track record as a stand-up comedian serves her well, producing good-humored, but never flip, comments." —Booklist
"The worldwide tour is great fun, and it is a delight to read her funny, self-deprecating reports. You can read her book, learn some important world history, and wonder at some very fancy or very plain candies. You won't risk a single cavity or gain a pound, unless (and this is a true risk) you find Hopkins's enthusiasm contagious."--The Columbus Dispatch


Advertisement