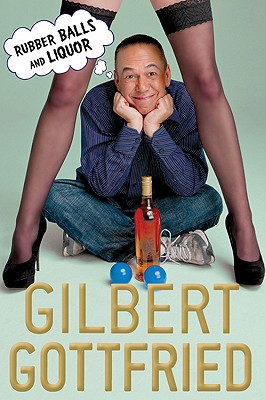 Rubber Balls and Liquor (Hardcover)
St. Martin's Press, 9780312668112, 288pp.
Publication Date: April 26, 2011
* Individual store prices may vary.
or
Not Currently Available for Direct Purchase
Description
Nobody ever reads this part of the book. Somebody at the publishing house explained to me that it's actually called the book flap. That sounded dirty, so I giggled for three hours. But it says in my contract that I have to write something over here in this tiny space, even though I don't think anyone will notice. Some people might open up to the middle of the book and start flipping through pages, but nobody will read this part. In fact, I'll bet anything that you're not reading this part now. And if it turns out that you are . . . well, the guy in the bookstore is probably staring at you, saying, "Stop reading that book!" I guess there's a reason bookstores are going out of business, left and right. Cheap fucks like you think it's okay to stand in the aisles and read to your heart's content. So for the sake of bookstores everywhere, buy this fucking book. I myself don't care. I only care about the poor working man. Oh, and the sanctity of the written word. I care about that, too. And in my case, those written words, of course, include fuck, dick, and pussy.
About the Author
GILBERT GOTTFRIED is a household name, having used his irritating voice and irreverent sense of humor to build an enormous following for his sold-out stand-up performances, his critically ignored motion picture career, his hardly remembered turn as a "Saturday Night Live "cast member, and his bestselling DVD and CD releases. Gottfried has appeared in more than one hundred movies and television shows, and has been a regular guest on "The Tonight Show with Jay Leno "and "The Howard Stern Show. "He has been named by Stern's listeners as one of their all-time favorite guests. He lives in New York, where he once killed a man for saying he didn't like yogurt.
Praise For Rubber Balls and Liquor…
Advance Praise for Rubber Balls and Liquor
 "One of the most touching, eye-opening historical accounts---one day I may even read it."
---Howie Mandel
"This is definitely the loudest book I have ever read. It changed my life. After reading it I decided to go through transgender surgery."
 ---Bob Saget
"Gilbert is the funniest man alive.  He is the comic genius of our generation.  This book proves he is the Picasso of the cubist-dick joke."
---Penn Jillette
"Truly the funniest book ever, by one of the funniest guys on the planet!"
 ---Paul Shaffer, musical director, Late Show with David Letterman
"More than a national treasure, he's a secret weapon. If we had had Gilbert Gottfried in World War II, Hitler would have given up in 1942."
---Stephen King
"This book crosses the line of good taste. I loved it."
---JEFFREY ROSS
Advertisement