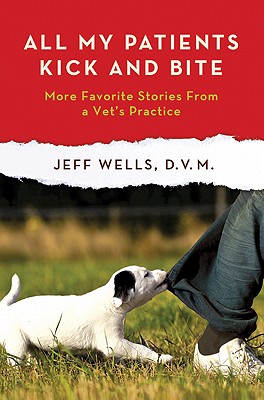 All My Patients Kick and Bite: More Favorite Stories from a Vet's Practice (Hardcover)
More Favorite Stories from a Vet's Practice
St. Martin's Press, 9780312668129, 256pp.
Publication Date: September 27, 2011
* Individual store prices may vary.
or
Not Currently Available for Direct Purchase
Description
"The highly amusing, uplifting and entertaining follow-up to "All My Patients Have Tales

In this second collection by our intrepid vet, Jeff Wells has his work cut out for him when he learns that
llamas do not take kindly to having their toenails trimmed, dog owners in the medical field can be a real pain, Scottish Highland cattle stick together and just might run a vet out of their enclosure, and fixing an overly amorous burro often needs to be prioritized. Told with Wells's trademark humor and gentle touch, these and many other heartwarming, heartbreaking, funny and strange stories will give readers a whole new appreciation for those who care for our pets.
.
About the Author
JEFF WELLS, DVM is a practicing veterinarian in the foothills of Colorado. A graduate of Iowa State University's College of Veterinary Medicine, Dr. Wells has cared for many types of animals. "All My Patients Have Tales "was the winner of two Colorado Independent Publisher's Awards and a National Independent Publisher's Award.
Praise For All My Patients Kick and Bite: More Favorite Stories from a Vet's Practice…
"Veterinarian Wells returns with another collection of warm, humorous tales of the animals he treats and the people who own and care for them. Dealing with the unexpected—llamas who don't want their nails trimmed, teenagers looking to get high on feline distemper vaccine, a herd of Scottish Highland cattle trying to protect a calf from the vet—makes for some high-tension reading. There are also moving stories of difficult births and life-saving efforts in nighttime winter snows. Wells weaves in the struggles of his own life and marriage with his wife's successful fight against recurrent cancer, and their adoption of an orphan from Korea. Good-natured, inviting animal tales." -- Kirkus Reviews
"The veterinarian's second book of gently told tales from his practice are heartwarming and heartbreaking."-- The Sacramento Bee
"This is a wonderfully written book...It is filled with what has become [Wells's]trademark humor and gentle touch. Dr. Wells' book is filled with stories that are touching, poignant, and funny, all reflecting his experiences as a dedicated veterinarian. Anyone who has ever been owned by a family pet will love this book." --Tucson Citizen
"After reading this warm and compassionate eclectic mix of stories, you're left loving this rural Colorado veterinarian's sense of humor, patience and earthiness.Each of the richly detailed vignettes is intense and engaging while accented with vivid characters and a tough realism, leaving you marveling at the author's commitment and resilient, can-do spirit." -- Seattle Kennel Club
Advertisement