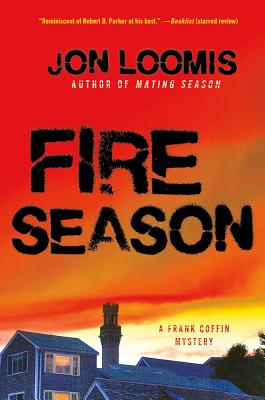 Fire Season (Hardcover)
Minotaur Books, 9780312668136, 306pp.
Publication Date: July 17, 2012
* Individual store prices may vary.
or
Not Currently Available for Direct Purchase
Description
Until a replacement can be found, Frank Coffin is pulling double duty as a detective and interim police chief for the Provincetown, Massachusetts, police force. Luckily, the off-season has just started for this tourist town, and Frank hopes the quiet streets will allow him more time to stay at home and take care of his very pregnant girlfriend.
When Frank responds to a call about of all things the murder of some local seals, and immediately afterward has to investigate a Dumpster fire, he starts losing hope that this off-season will provide any downtime at all. As several more increasingly large and dangerous fires are sparked in quick succession, it seems there's a firebug on the loose. Finding a way to catch a man who burns all evidence of his crimes would give Frank enough to worry about, but with his deputy terrified that UFOs are real, a severed head found floating in a local bar's lobster tank, his mother setting fires of her own, and a girlfriend with bizarre midnight cravings, Frank is up to his eyeballs in the criminal machinations and colorful antics of P'town's eccentric residents.
Jon Loomis consistently wins over readers and critics alike with his sharp humor and larger-than-life characters, and "Fire Season" showcases his talent for witty prose and engaging storytelling at its best.
About the Author
JON LOOMIS, a college professor, is the author of two Frank Coffin mysteries and two collections of poetry. The recipient of a number of fellowships and awards including the FIELD poetry prize, he lives in Wisconsin with his family.
Praise For Fire Season…
Fire Season

"The third in this series is fulfilling the promise of the earlier books with its sharp dialogue, keen sense of place, and a protagonist who's reminiscent of Robert B. Parker's Spenser but more of an everyman. Great entertainment."
—Booklist (starred review)

"Enjoyable. . .Those who like their murders served with a hearty helping of whimsy and humor will be rewarded."
—Publishers Weekly

Mating Season

"A poet and a college professor with an ear for comedy… Loomis heaps up the bodies in this peaceful, playful beach town."
—National Public Radio

"Coffin's second outing hardly could be better: Loomis' prose is crisp and smart, and his characterizations ring true, with none more appealing than Coffin himself, a cop with a phobia of corpses. Reminiscent of Robert B. Parker at his best."
—Booklist (starred review)
Advertisement