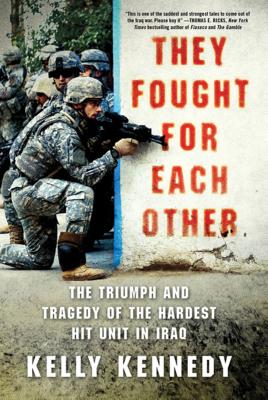 They Fought for Each Other
The Triumph and Tragedy of the Hardest Hit Unit in Iraq
Paperback

* Individual store prices may vary.
Other Editions of This Title:
Hardcover (3/2/2010)
Description
Based on "Blood Brothers," the award-nominated series that ran in Army Times, this is the remarkable story of a courageous military unit that sacrificed their lives to change Adhamiya, Iraq from a lawless town where insurgents roamed freely, to a safe and secure neighborhood.

Army Times writer Kelly Kennedy was embedded with Charlie Company in 2007, went on patrol with the soldiers and spent hours in combat support hospitals, leading to this riveting chronicle of an Army battalion that lost 31 soldiers in Iraq. During that period, one soldier threw himself on a grenade to save his friends, a well-liked first sergeant shot himself to death in front of his troops, and a platoon staged a mutiny. The men of Charlie 1-26 would earn at least 95 combat awards, including one soldier who would go home with three Purple Hearts and a lost dream. This is a timeless story of men at war and a heartbreaking account of American sacrifice in Iraq.
Praise For They Fought for Each Other: The Triumph and Tragedy of the Hardest Hit Unit in Iraq…
"[Kennedy] spares no punches in revealing the gritty and the horrific and counters it with the moments of grace." —Washington Post Book World

"This is one of the saddest and strongest tales to come out of the Iraq war. Please buy it." —Thomas E. Ricks, New York Times bestselling author of FIASCO and THE GAMBLE

"No book takes you deeper inside the sacrifice made by the American soldier in Iraq." —Sean Naylor, New York Times bestselling author of NOT A GOOD DAY TO DIE
St. Martin's Griffin, 9780312672096, 352pp.
Publication Date: March 15, 2011
About the Author
Kelly Kennedy served as a soldier in Desert Storm and Mogadishu, Somalia. She has written for The Salt Lake Tribune, The Portland Oregonian, The Chicago Tribune, and Army Times. She lives in Virginia.