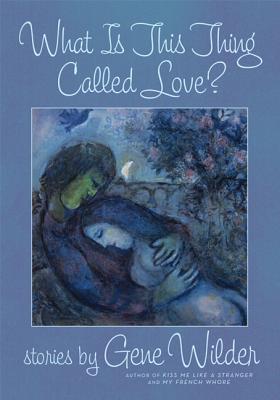 What Is This Thing Called Love? (Paperback)
Griffin, 9780312672799, 160pp.
Publication Date: April 26, 2011
Description
For a romantic, it's life's ultimate question: What is This Thing Called Love? Actor and novelist Gene Wilder explores twelve possible answers in this emotionally involving book about different kinds of love: star-crossed, intense, needy, eternal, unrequited and even comical. With delicacy of feeling and a simple style that adds to the power of his fiction, Wilder creates memorable lovers and silly suitors, unexpected attraction and careful courting. What is This Thing Called Love? is for anyone who has ever yearned for a deep connection, made a study of love, and spent their life trying to find the real thing.
"A lighthearted reminder of love's potential (requited, even unrequited) to make a life worthwhile."--Los Angeles Times
About the Author
Gene Wilder (1933-2016) began acting when he was thirteen and writing for the screen since the early 1970s. After a small role in Bonnie and Clyde pulled him away from a career onstage, he was nominated for an Academy Award as Best Supporting Actor for his role as Leo Bloom in The Producers, which led to Blazing Saddles and then to another Academy nomination, this time for writing Young Frankenstein. Wilder has appeared in twenty-five feature films and a number of stage productions. His first book, about his own life, was Kiss Me Like A Stranger, and was followed by the novels My French Whore, The Woman Who Wouldn't, What Is This Thing Called Love? and Something to Remember You By.
Praise For What Is This Thing Called Love?…
'"It was cold and raining at four in the morning when Buddy walked out of Caesars Palace, stark naked except for the L.A. Times wrapped around his waist." These sweet, hilarious stories about love are dedicated to Gene Wilder's cousin Buddy: "When he was alive he really wanted love, but settled only for sex." Many are about the time wasted by lovers who choose to hide their true feelings — Jane Austen without the happy endings. "She pretended to be a big flirt and I knew she really wasn't." Some are about unrequited love: "I asked Melanie to marry me when she came to my house for dinner.… Melanie just giggled. I was three and a half years old." Others illuminate the myriad differences between book love or screen love and the real, awkward world of miscommunication and lost opportunities. All together, they serve as a lighthearted reminder of love's potential (requited, even unrequited) to make a life worthwhile.'--Los Angeles Times
Advertisement