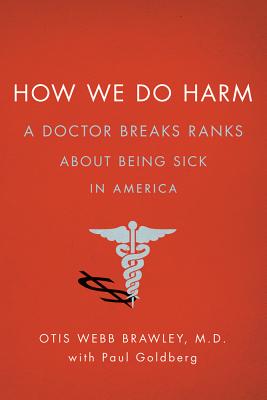 How We Do Harm
A Doctor Breaks Ranks about Being Sick in America
Hardcover

* Individual store prices may vary.
Other Editions of This Title:
Paperback (10/30/2012)
Description
"How We Do Harm" exposes the underbelly of healthcare today the overtreatment of the rich, the under treatment of the poor, the financial conflicts of interest that determine the care that physicians' provide, insurance companies that don't demand the best (or even the least expensive) care, and pharmaceutical companies concerned with selling drugs, regardless of whether they improve health or do harm.
Dr. Otis Brawley is the chief medical and scientific officer of The American Cancer Society, an oncologist with a dazzling clinical, research, and policy career. "How We Do Harm pulls back the curtain "on how medicine is really practiced in America. Brawley tells of doctors who select treatment based on payment they will receive, rather than on demonstrated scientific results; hospitals and pharmaceutical companies that seek out patients to treat even if they are not actually ill (but as long as their insurance will pay); a public primed to swallow the latest pill, no matter the cost; and rising healthcare costs for unnecessary and often unproven treatments that we all pay for. Brawley calls for rational healthcare, healthcare drawn from results-based, scientifically justifiable treatments, and not just the peddling of hot new drugs.
Brawley's personal history from a childhood in the gang-ridden streets of black Detroit, to the green hallways of Grady Memorial Hospital, the largest public hospital in the U.S., to the boardrooms of The American Cancer Society results in a passionate view of medicine and the politics of illness in America - and a deep understanding of healthcare today. "How We Do Harm" is his well-reasoned manifesto for change.
Praise For How We Do Harm: A Doctor Breaks Ranks about Being Sick in America…
"My friend and colleague Otis Brawley has written a raw and honest portrayal of our health care system. There are certain to be special interest organizations and medical groups that take issue with Dr.Brawley's conclusions, but few can argue with the scientific rigor he has demonstrated in writing this book. Otis is the go- to oncologist I send so many patients to see, because he is not only a great doctor, but also a compassionate man. As we discuss the transformation of health care in this country, put Dr. Brawley's book at the top of your list."-
Sanjay Gupta, Associate Chief of Neurosurgery Grady Memorial Hospital, Chief Medical Correspondent, CNN
"Otis Brawley is one of America's truly outstanding physician scientists.  In How We Do Harm, he challenges all of us-- physicians, patients, and communities-- to recommit ourselves to the pledge to 'do no harm.'"-David Satcher,Former Surgeon General of the United States, Director, Satcher Health Leadership Institute, Morehouse School of Medicine
"Sweeping, honest and brave . . . How We Do Harm dazzles with a wealth of  scientific insight, but its genius lies in the author's recounting of individual patient stories that illuminate the dark underbelly of medicine's missteps. Brawley does not shrink from revealing medicine's warts, butthis book  offers much more. It is a  triumph of humanity and clarity in which oncology becomes a Rorschach for the practice of American medicine. You will finish this arresting book reluctantly, with a new appreciation of what American medicine could be."-Harriet A .Washington, author of Deadly Monopolies: The Shocking Corporate Takeover of Life Itself and the Consequences for Your Health and Our Medical Future and Medical Apartheid: The Dark History of Medical Experimentation on Black Americans from Colonial Times to the Present
"Dr. Brawley is a premier academic oncologist and a minority doctor in the nation's largest inner city hospital. How We Do Harm places in stark contrast the health care resources available to the rich and the poor, the insured and the uninsured, the white community and the community of color . He makes  the  cogent  point that more testing, screening, and interventions available to the rich does not always  mean better medical care ."-Bruce Chabner, MD, Director of Clinical Research, Massachusetts General Hospital Cancer Center
"Otis Brawley shares in equal measure his compelling personal story, the development of modern medical oncology, and the wide range of his strong opinions.  Whether you agree with him or not, the reader is given access to Dr. Brawley's unambiguous scientific and ethical framework.  He provides an anvil for shaping your own perspectives and biases."-Michael A. Friedman, MD, President and Chief Executive Officer, Director Comprehensive Cancer Center, City of Hope
"A tough-minded, solidly argued indictment of health care. . . Brawley's sense of outrage is palpable." -The Boston Globe
"A powerful contribution to the ongoing discussion on health-care reform."-Kirkus
This book is shockingly detailed and it should serve as a wake-up call to fix the dismal mess and rethink the politics of illness in America. Dr. Brawley provides a well-reasoned manifesto for change."-Tucson Citizen

"Any who want to know how behind-the scenes healthcare works will find this a key title." –Midwest Book Review
St. Martin's Press, 9780312672973, 320pp.
Publication Date: January 31, 2012
About the Author
DR. OTIS BRAWLEY is the chief medical and scientific officer and executive vice president of the American Cancer Society. Dr. Brawley currently serves as professor of hematology, oncology, medicine and epidemiology at Emory University. He is also a CNN medical consultant. He is a graduate of the University of Chicago, Pritzker School of Medicine, and completed a residency in internal medicine at University Hospitals of Cleveland, Case-Western Reserve University, and a fellowship in medical oncology at the National Cancer Institute. PAUL GOLDBERG is an award-winning investigative reporter who covers oncology for The Cancer Letter, a weekly publication focused on drug development and the politics of cancer. His articles have appeared in The New York Times, The Wall Street Journal, The Washington Post, The Washington Monthly and he has been featured on 60 Minutes, 20/20, CNN and NPR. Goldberg is also the author of two books on the Soviet human rights movement.
or
Not Currently Available for Direct Purchase