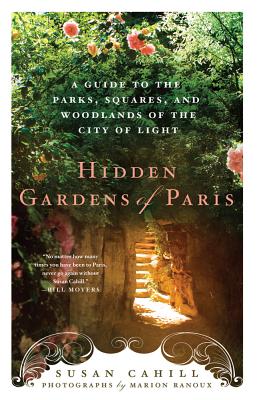 Hidden Gardens of Paris: A Guide to the Parks, Squares, and Woodlands of the City of Light (Paperback)
A Guide to the Parks, Squares, and Woodlands of the City of Light
Griffin, 9780312673338, 221pp.
Publication Date: April 10, 2012
Description

"For the seasoned Parisian traveller or the novice looking to get off the beaten track Cahill provides a roadmap to parts of the city most visitors will never see"
In a city that is the destination of millions of travelers every year, it can be difficult to find your way to its lovely, serene spaces. Away from the madding crowds, the gardens of Paris offer the balm of flowers, tall old trees, fountains, ponds, sculptures, with quiet Parisians reading "Le Monde, " taking the sun, relishing the peace.
These places are often tucked away, off the beaten tourist track, and without a guide they're easy to miss: The "Jardin de l'Atlantique, "out of sight on the roof of Gare Montparnasse. The enchanting "Jardin de la Vallee Suisse, "invisible from the street, accessible only if you know how to find the path. The "Square Boucicaut," its children's carousel hidden inside a grove of oak and maples. "Square Batignolles," the shade of the old chestnut trees an inspiration to the painter edouard Manet and poet Paul Verlaine.

"Hidden Gardens of Paris" features 40 such oases in" quartiers" both posh and plain, as well as dozens of others "Nearby" to the featured green space. It is arranged according to the geographic sections of the city "Ile de la Cite, Left Bank, Right Bank, Western Paris, Eastern Paris "a lively and informative guide that focuses on each place as a site of passionate cultural memory.
About the Author
SUSAN CAHILL has published four travel books on Italy and Ireland. She is the editor of the bestselling Women and Fiction series and author of the novel Earth Angels. She spends a few months in Paris every year. MARION RANOUX, a native Parisian, is an experienced freelance photographer and translator into French of Czech literature.
Praise For Hidden Gardens of Paris: A Guide to the Parks, Squares, and Woodlands of the City of Light…
"Paris may be universally known as the City of Light, but based on this exquisite book it could just as easily be called the City of Parks." —Chicago Tribune
http://www.chicagotribune.com/travel/sc-trav-0501-resourceful-20120501,0,2799621.story
"No matter how many times you have been to Paris, never go again without Susan Cahill (are you listening, Woody?) In our many visits there since 1957 my wife Judith and I thought we had covered all the known and not-so-known delights of the city. Only in reading The Hidden Gardens of Paris did we realize we had missed much of what had been hiding in plain sight. In her earlier book The Smiles of Rome she had worked the same magic, enabling us to return to the Imperial City in the company of notable writers whose experience in their time enraptures the visitor today. We have already started packing for Paris." —Bill Moyers
"Whether you go often to Paris or are making your first visit, this is the guide you need.  Susan Cahill will accompany you through the parks of this beloved city--from famous public spaces to secret gardens: a walk through the history and lore of Paris and Parisians, all in the open air." —Shirley Abbott, author of The Bookmaker's Daughter, Love's Apprentice, and The Future of Love
"The secluded places that Susan Cahill and Marion Ranoux show us may have seemed off limits to the considerate traveller, anxious to avoid an invasion of French privacy.  But this lively and informative guide gives one the confidence and the an overwhelming desire to venture into the Jardin Catherine Labouré and the Jardin du Musée Rodin, or, on the other hand, to tackle the Bois du Boulogne on the next visit to Paris." — Elizabeth Cullinan, author of House of Gold
"As someone who likes to build a walk into her daily routine, this handy, informative little book helped me visit old neighborhood park and garden friends and meet new ones.  And what's not to like about the gardens of Paris and the stories behind them?" —Mireille Guiliano, author of French Women Don't Get Fat
Advertisement