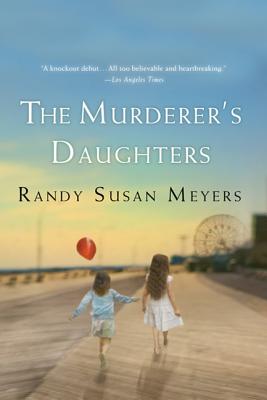 The Murderer's Daughters
A Novel
Paperback

* Individual store prices may vary.
Other Editions of This Title:
Digital Audiobook (5/20/2010)
Description
Lulu and Merry's childhood was never ideal, but on the day before Lulu's tenth birthday their father drives them into a nightmare. He's always hungered for the love of the girls' self-obsessed mother; after she throws him out, their troubles turn deadly.

Lulu had been warned to never to let her father in, but when he shows up drunk, he's impossible to ignore. He bullies his way past Lulu, who then listens in horror as her parents struggle. She runs for help, but discovers upon her return that he's murdered her mother, stabbed her five-year-old sister, and tried, unsuccessfully, to kill himself.

Lulu and Merry are effectively orphaned by their mother's death and father's imprisonment, but the girls' relatives refuse to care for them and abandon them to a terrifying group home. Even as they plot to be taken in by a well-to-do family, they come to learn they'll never really belong anywhere or to anyone—that all they have to hold onto is each other.

For thirty years, the sisters try to make sense of what happened. Their imprisoned father is a specter in both their lives, shadowing every choice they make. One spends her life pretending he's dead, while the other feels compelled, by fear, by duty, to keep him close. Both dread the day his attempts to win parole may meet success.

A beautifully written, compulsively readable debut, Randy Susan Meyers's The Murderer's Daughters is a testament to the power of family and the ties that bind us together and tear us apart.
Praise For The Murderer's Daughters: A Novel…
"How both sisters live, from the squalor of an orphanage to the empty silences of suburban living, is all too believable and heartbreaking because there is no acceptable answer for how to deal with one's part, as living victim, of a horrible crime" —Sarah Weinman, LA Times 'Knock-Out Debuts'

"Meyers delivers a clear-eyed, insightful story about domestic violence and survivor's guilt in "The Murderer's Daughters." It's an impressively executed novel, disturbing and convincing." —Diane White, Boston Globe

"Dives fearlessly into a tense and emotional story of two sisters anchored to one irreversible act of domestic violence. The narrative's dual narrators, Lulu and her younger sister Merry Zachariah, become innocent casualties when, in a terrifying scene relayed from Lulu's childhood perspective, their father murders their mother. Meyers painstakingly traces their lives to show just how much everyone else pays for that one act of violence." —Christine Thomas, The Miami Herald

"Beautiful language balms the dark plot" —Daily Candy, Best New Winter Books

"The author delivers unshakable truths at every turn. . . Meyers, in a remarkably assured debut, details how the sisters process their grief in separate but similarly punishing ways." —Christian Toto, The Denver Post

"Much like Janet Fitch's White Oleander or Jacquelyn Mitchard's The Deep End of the Ocean, her book takes readers on an emotional roller-coaster ride. Readers, get out your handkerchief and prepare to care." —Library Journal Review

"As provocative as We Need to Talk About Kevin and as emotional as any Jodi Picoult novel." —New Zealand Women's Weekly

"A wonderful and thoughtful, wise novel." —Annabelle, Germany

"A touching tale that will truly move you." —The Sun, UK

"The Murderer's Daughters is the unforgettable tale of Merry and Lulu, little sisters in sorrow, seared by their father's violence. Their heartbreaking story, which spans thirty years, will bring tears to your eyes...but there is a shining light of hope at the end of the tunnel." —Tatiana de Rosnay, New York Times bestselling author of Sarah's Key

"In her mesmerizing, empathic novel The Murderer's Daughters, Meyers explores the bond between two sisters clinging to each other in the aftermath of their mother's murder and their father's imprisonment...and how their bond is tested by the reappearance of the past. You won't be able to put it down." —Jenna Blum, New York Times bestselling author of Those Who Save Us

"This wonderful, thought-provoking novel took hold of me on page one and never let me go. With lovely prose and an uncanny delicacy for such a horrific and oftentimes unspeakable topic, Randy Susan Meyers brilliantly succeeds in telling the untold story of what happens to the children of murder victims. Alternately told through the eyes of Lulu and Merry, the story spans over 30 years and gives us a rare ?A riveting read. . . Highly recommended." —Beth Hoffman, New York Times bestselling author of Saving CeeCee Honeycutt

"In The Murderer's Daughters Randy Susan Meyers tells the intricate and absorbing story of two sisters, one of whom regards herself as an orphan. I love the sweep of this novel, from childhood to adulthood, from pain to understanding, and how intimately Meyers knows her characters and brings them to life. I finished The Murderer's Daughters with the sense that I had been on the best kind of journey." —Margot Livesey, author of The House on Fortune Street, Winner 2009 L. L. Winship/PEN New England Award
St. Martin's Griffin, 9780312674434, 320pp.
Publication Date: February 1, 2011
About the Author
Randy Susan Meyers, author of The Murderer's Daughters, spent eight years as assistant director of Common Purpose, a batterer intervention program where she worked with both batterers and domestic violence victims. Previously, she was director for the Mission Hill Community Centers where she worked with at-risk youth. She is the co-author of the nonfiction book Couples with Children. Her short fiction has been published in Perigee, Fog City Review, and Grub Street Free Press. She currently teaches fiction-writing seminars at the Grub Street Writers' Center in Boston, Massachusetts. She lives in Boston with her husband and is the mother of two grown daughters.