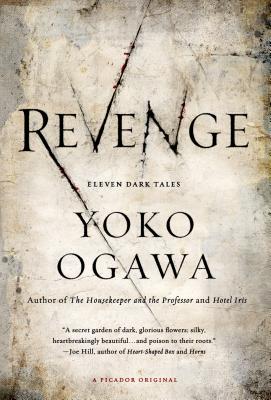 Revenge
Eleven Dark Tales
Paperback

* Individual store prices may vary.
Other Editions of This Title:
Digital Audiobook (4/7/2013)
MP3 CD (4/8/2013)
Compact Disc (4/8/2013)
Description
"It's not just Murakami but also the shadow of Borges that hovers over this mesmerizing book… [and] one may detect a slight bow to the American macabre of E.A. Poe. Ogawa stands on the shoulders of giants, as another saying goes. But this collection may linger in your mind — it does in mine — as a delicious, perplexing, absorbing and somehow singular experience." —Alan Cheuse, NPR

Sinister forces collide---and unite a host of desperate characters---in this eerie cycle of interwoven tales from Yoko Ogawa, the critically acclaimed author of The Housekeeper and the Professor.

An aspiring writer moves into a new apartment and discovers that her landlady has murdered her husband. Elsewhere, an accomplished surgeon is approached by a cabaret singer, whose beautiful appearance belies the grotesque condition of her heart. And while the surgeon's jealous lover vows to kill him, a violent envy also stirs in the soul of a lonely craftsman. Desire meets with impulse and erupts, attracting the attention of the surgeon's neighbor---who is drawn to a decaying residence that is now home to instruments of human torture. Murderers and mourners, mothers and children, lovers and innocent bystanders---their fates converge in an ominous and darkly beautiful web.

Yoko Ogawa's Revenge is a master class in the macabre that will haunt you to the last page.

An NPR Best Book of 2013
Praise For Revenge: Eleven Dark Tales…
"A secret garden of dark, glorious flowers: silky, heartbreakingly beautiful...and poison to their roots." —Joe Hill, author of Heart-Shaped Box and Horns

"Yoko Ogawa is an absolute master of the Gothic at its most beautiful and dangerous, and Revenge is a collection that deepens and darkens with every story you read." —Peter Straub

"It's not just Murakami but also the shadow of Borges that hovers over this mesmerizing book… [and] one may detect a slight bow to the American macabre of E.A. Poe. Ogawa stands on the shoulders of giants, as another saying goes. But this collection may linger in your mind -- it does in mine -- as a delicious, perplexing, absorbing and somehow singular experience." —Alan Cheuse, NPR

"Spine-tingling… These are shiningly sinister stories that grab you by the vulnerable back of the neck and don't let go." —Elle

"Fittingly, each tale seems to be its own torture chamber--dark and meticulous… More disturbing than the bloody imagery is the eerie calm with which each plot unfolds, as if one act of violence must necessarily transform into the portal for another." —The New Yorker

"Magnificently macabre… Ogawa is the Japanese master of dread… These tales are not for the faint of heart, but Ms. Ogawa is more "Masque of the Red Death" than she is The Ring. She elevates herself above any limitations of the genre she's working in." —The New York Observer

"Equally seductive and unsettling, these tales overwhelm the reader with sinister dreamscapes, each exquisitely rendered in cool, precise prose that has been rightfully compared to that of fellow Japanese author Haruki Murakami…her tales will long linger in the mind." —San Francisco Chronicle

"[Revenge] Erupts into the ordinary world as if from the unconscious or the grave…. A haunting introduction to her work… the overall effect is [that of] David Lynch: the rot that lurks beneath the surface." —The Economist

"If creepy were a place, Ms. Ogawa has come up with many ways to get there… Even while punctuated [by] macabre flourishes her book maintains its restraint, like a dark alley that's too quiet, or an insane person acting too calm." —Susannah Meadows, The New York Times

"Every act of malice glows creepily against the plain background. It's a book that ought to be distributed to every fiction-M.F.A. candidate who tends to overwrite: Ogawa is an expert in doing more with less." —New York Magazine

"[Ogawa] stresses the trustworthiness of the storyteller and the essential reality of what we are seeing, even as strange situations and surreal events create a dreamlike undertow, challenging our sense of security. The result is a profound unease that spreads out and permeates the narrative. Kafka is, of course, one of the great disseminators of this technique, and Murakami also uses it, but Ogawa makes it her own, with excellent results." —Los Angeles Review of Books

"Reading Yoko Ogawa is akin to watching a film by David Lynch; the experience is an admixture of vertiginous revelation and dark defamiliarization… her stories seem to exist in a timeless, fluid medium all its own." —The Huffington Post

"Eleven creeptastic stories, complete with Murakami-esque weirdness." —io9

"Japan's best teller of macabre tales… Ogawa is such a master that she pushes the boundaries and suspends the mystery… You never know 'why,' only that humans are slaves to time, and we keep on with our lives so that someday we might understand." —The Daily Beast

"A storehouse of creepy and vicious behavior… [Ogawa's] touches of horror sometimes put me in mind of the grown-up stories of Roald Dahl." —Jim Higgins, The Milwaukee Journal Sentinel

"Ogawa's language, in Stephen Snyder's translation, is spare, quiet, content with being nimble rather than dwelling on beautiful phrases. It's a language that doesn't announce its own frugality and refuses to make a minimalist's daring and obvious cuts. The seeming ease is the outcome of hard work, but it doesn't make the reader sweat. Ogawa moves swiftly; she has the power to move." —Stefan Kiesby, Los Angeles Review of Books

"Woven through the 11 interconnected tales is a thread of the grotesque, the macabre, the mournful.… Ogawa's language is both spare and searingly precise, crystallizing the details of everyday existence and capturing the unexpected shock of the bizarre…. Readers willing to explore the murkier edges of the human psyche will not be disappointed." —Associated Press

"Eleven carefully calibrated creepy stories… This deliciously dark new collection should bring new fans to the prolific Japanese author Yoko Ogawa." —Jane Ciabattari, The Daily Beast

"Disturbing… the delicate, slow-burning eeriness [lingers] long after the book is put down." —Time Out (New York)

"Ogawa paints each tale exquisitely. . . . With dark calm and disquieting imagery, she leads readers on a journey of the macabre in a progression of tales that resound long after the last page is turned. . . . Ogawa's writing is simple and effective, and her technique for merging the tales demonstrates her mastery of the written word." —Kirkus

"[These are] haunted characters who could have walked, quite coolly, out of a Joyce Carol Oates or Koji Suzuki creation…. Not recommended for bedtime reading." —The Boston Phoenix

"Ogawa is original, elegant, very disturbing." —Hilary Mantel, Booker Prize winning author of Wolf Hall and Bring Up the Bodies

"A dynamite first-person voice, a story about reckless ridiculous twisted adolescent love in a summertime resort in Japan." —Junot Díaz on Hotel Iris

"Exquisitely disturbing…Ogawa steadily builds the tension to an unexpected crescendo that resolves into an uncertain reprieve." —Elle

"Ogawa's fiction reflects like a fun-house mirror, skewing conventional responses….[Like] Haruki Murakami, Ogawa writes stories that float free of any specific culture, anchoring themselves instead in the landscape of the mind." —The Washington Post Book World

"Using spare strokes and macabre detail, Ogawa creates an intense vision of limited lives and the twisted ingenuity of people trapped within them." —Maureen Corrigan, NPR's Fresh Air

"A conspicuously gifted writer…To read Ogawa is to enter a dreamlike state tinged with a nightmare, and her stories continue to haunt. She possesses an effortless, glassy, eerie brilliance." —The Guardian (London)
Picador, 9780312674465, 176pp.
Publication Date: January 29, 2013
About the Author
Yoko Ogawa is the author of The Diving Pool, The Housekeeper and the Professor, and Hotel Iris. Her fiction has appeared in The New Yorker, A Public Space, and Zoetrope. Since 1988 she has published more than twenty works of fiction and nonfiction, and has won every major Japanese literary award. Her novel The Housekeeper and the Professor has been adapted into a film, The Professor's Beloved Equation. She lives in Ashiya, Japan, with her husband and son.
Book Videos