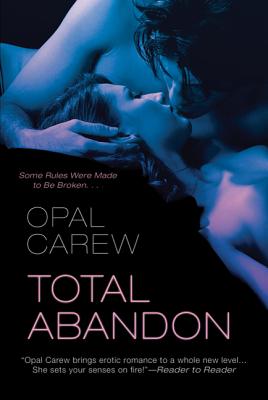 Total Abandon (Paperback)
St. Martin's Griffin, 9780312674595, 288pp.
Publication Date: April 12, 2011
* Individual store prices may vary.
Description
When Sandra jots her most forbidden fantasies on a cocktail napkin during a girl's night out, she thinks it's all just innocent fun. She never expected her friend Devlin—who's had a crush on her for ages—to find her list. Now, he's about to push their relationship to a new level by orchestrating a steamy weekend getaway… where Sandra's wildest fantasies can come to life. As Sandra ticks off item by delicious item on her list, she tests the limits of pleasure—and the limits of her relationship with Devlin…
About the Author
Opal Carew is the author of Total Abandon, Pleasure Bound, Twin Fantasies and other erotic romance novels. "So why do I like writing erotic romance?" she asks. "I like being able to push beyond traditional boundaries." Opal loves crystals, dragons, feathers, cats, pink hair, the occult and all that glitters. While she writes, she listens to inspirational music, lights candles and keeps crystals near. Before devoting herself to her passion as a writer, Opal spent 15 years as a software analyst, and she has a degree in Mathematics from the University of Waterloo. She lives with her husband and two sons in Ontario, Canada.
Praise For Total Abandon…
  Praise for the novels of Opal Carew
"Opal Carew brings erotic romance to a whole new level…She sets your senses on fire!" –Reader to Reader
"This one's so hot, you might need to wear oven mitts while you're reading it!"  --Romance Junkies
4 stars! "A beautiful erotic romance…real and powerful." --
Romantic Times
"Opal Carew is truly a goddess of sensuality in her writing." –Dark Angel Reviews
"Fresh, exciting and extremely sexual with characters you'll fall in love with.  Absolutely fantastic!" –Fresh Fiction
"The constant and imaginative sexual situations keep the reader's interest along with likable characters with emotional depth.  Be prepared for all manner of coupling including groups, exhibitionism, voyeurism, and same sex unions"  --Regency Reader

4 stars! "Written with great style. … a must for any erotic romance fan, ménage enthusiasts in particular."  --Just Erotic Romance Reviews

"Delicious in its sensuality.  Opal Carew has a great imagination and her sensual scenes are sure to get a fire going in many readers." --A Romance Review