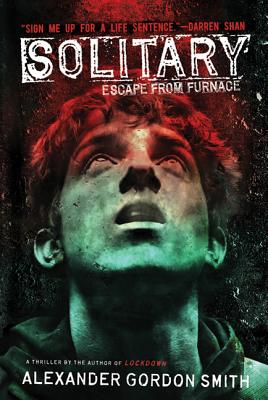 Solitary: Escape from Furnace 2 (Paperback)
Escape from Furnace 2
Square Fish, 9780312674762, 256pp.
Publication Date: July 5, 2011
Description
Alex tried to escape.
He had a perfect plan.
He was almost free. Even felt the cool, clean air on his face.
Then the dogs came.
Now he's locked in a place so gruesome so hellish that escape doesn't even matter.
He just wants to survive.
About the Author
Alexander Gordon Smith is the author of the Escape from Furnace series, including Lockdown. Born in 1979 in Norwich, England, he always wanted to be a writer. After experimenting in the service and retail trades for a few years, Smith decided to go to University. He studied English and American Literature at the University of East Anglia, and it was here that he first explored his love of publishing. Along with poet Luke Wright, he founded Egg Box Publishing, a groundbreaking magazine and press that promotes talented new authors. He also started writing literally hundreds of articles, short stories and books ranging from Scooby Doo comic strips to world atlases, Midsomer Murders to X-Files. The research for these projects led to countless book ideas germinating in his head. His first book, The Inventors, written with his nine-year-old brother Jamie, was published in the U.K. in 2007. He lives in England.
Praise For Solitary: Escape from Furnace 2…
"Fresh and ferocious, Lockdown will hook boys with its gritty, unrelenting surprises." —James Patterson
"Furnace is hotter than hell and twice as much fun! Sign me up for a life sentence of Alexander Gordon Smith!"—Darren Shan, author of the Demonata series "Fast paced and packed with nail-biting scenarios . . . This is a dark story with a dark ending, but the gritty action and compelling characters will have reluctant readers enthralled."—School Library Journal
"Once again, Smith has created a thrill ride that will leave the audience wanting more. Smith's prose is fast paced, witty, and sometimes downright terrifying. Some of the images he creates could manifest into a nightmare or two. Teens who are looking for a great thriller/horror story will definitely want to pick up these novels."—VOYA
"Adrenaline-fueled action infuses the narrative as it did in Lockdown (2009), keeping the pages turning. . . . The author knows what keeps his readers locked to the page and delivers it soundly."—Kirkus Reviews
Advertisement