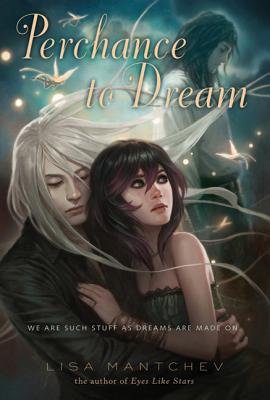 Perchance to Dream (Paperback)
Theatre Illuminata #2
Square Fish, 9780312675103, 368pp.
Publication Date: August 16, 2011
Other Editions of This Title:
Hardcover (5/25/2010)
* Individual store prices may vary.
Description
Growing up in the enchanted Théâtre Illuminata, Bertie learned everything about every play ever written. She knew the Players and their parts—but she didn't know that she had a role to play, too. Now that she's discovered her own magic, she is the Mistress of Revels, the Teller of Tales. And she's ready to write her own story, outside the protective walls of Théâtre. But which way will her story go? Toward Nate, who's being held captive by the Sea Goddess, and loves Bertie dearly? Or should she write Ariel into her narrative? He's by her side every day, and she's finding his charms so very hard to resist. . . .
About the Author
Lisa Mantchev is the author of the Theatre Illuminata series, including Perchance to Dream and Eyes Like Stars. She grew up in the small Northern California town of Ukiah. She wrote her first play in the fourth grade, and has been involved in theater ever since. She received two scholarships to study drama at the University of California, Irvine. She won the Chancellor's Award For Undergraduate Research in Drama her senior year while studying in the Campuswide Honors Program. After graduation, she taught English at the Lycée Internationale de Los Angeles and created their Drama After School Program. In between report cards and drafting scripts for Winter and Spring productions, she wrote fiction. Her first professional short fiction sale was in 2002, and her debut trilogy sold in 2007. Mantchev makes her home on the Olympic Peninsula of Washington state with her husband Angel, her daughter Amélie and four hairy miscreant dogs. When not scribbling, she can be found on the beach, up a tree, making jam or repairing things with her trusty glue gun.
Praise For Perchance to Dream: Theatre Illuminata #2…
"The sequel to Eyes Like Stars, this is another rousing adventure of literary and theatrical whimsy, filled with sly twists and humorous moments. Bertie's continuing story deserves multiple encores and a standing ovation." —Realms of Fantasy
"Mantchev's highly imaginative prose bursts with lush imagery and literary riffs, and the party's encounter with the Innamorati, a traveling circus inspired by Cirque du Soleil, enhances the book's surrealism . . . fans of the first book will cry 'Encore!' as the ending sets up the third in the series." —School Library Journal
"The pace is fast and furious, and the secrets to Bertie's intriguing heritage unfold satisfyingly, but it's Mantchev's fresh, intelligent style that delights most. . . . This fantastical romp--an absolute must for theater buffs--might stand alone, but it'd be a pity not to start with the first." —Kirkus Reviews