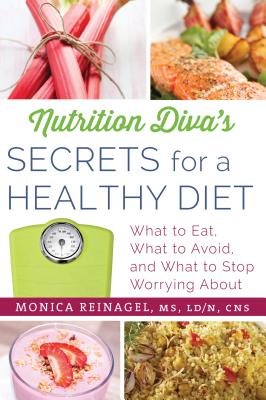 Nutrition Diva's Secrets for a Healthy Diet (Paperback)
What to Eat, What to Avoid, and What to Stop Worrying About (Quick & Dirty Tips)
St. Martin's Griffin, 9780312676414, 256pp.
Publication Date: March 1, 2011
* Individual store prices may vary.
Description
Tired of trying to figure out what you should be eating for breakfast, or whether it's ever OK to eat before going to bed? Want to know which type of milk, or cereals, or meats are best so that food shopping is easier?
Millions of people already eat, look, and feel better thanks to popular podcast host and board-certified nutritionist Monica Reinagel. In her highly-anticipated guidebook she sorts through all the conflicting nutrition information out there and busts outdated food myths, so you'll know exactly what to eat (and what to avoid) once and for all. Don't worry if pasta makes you happy, if chocolate keeps you sane, or if you just can't stand broccoli; no food is off limits and none is required. Instead, Monica walks you through every aisle of the grocery store and through each meal and snack of the day, helping you make healthier choices and answering your burning questions, including:
- How often should you eat?
- Which organic foods are worth the extra cost?
- Does cooking vegetables destroy the vitamins?
- Should foods be combined in certain ways for better digestion?
Complete with grocery shopping lists, simple, delicious recipes, and sample meal plans, Nutrition Diva's Secrets for a Healthy Diet will have you feeling healthier, looking better than ever before, and no longer worrying about what to eat for dinner.
About the Author
Monica Reinagel, MS, LN, CNS, is a board-certified, licensed nutritionist and a professionally-trained chef. Her #1-ranked Nutrition Diva podcast has been downloaded more than 9 million times and her expert advice is regularly featured on television, radio, and in the nation's leading newspapers and magazines. She's the author of six books, including Nutrition Diva's Secrets for a Healthy Diet.
Praise For Nutrition Diva's Secrets for a Healthy Diet: What to Eat, What to Avoid, and What to Stop Worrying About (Quick & Dirty Tips)…
"Finally, an essential guide to rational, balanced eating! With her practical tips and realistic outlook, Monica Reinagel makes healthful eating simple and deprivation-free. No one should live without enjoying foods she loves, and with this smart, easy guide, you don't have to." —Lucy Danziger, Editor-in-Chief, SELF Magazine
"Monica takes all of the confusion out of healthy eating with advice that's smart, to the point, and, best of all, completely doable. This book gets to the heart of how to nourish your family and debunks all those outdated nutritional myths in the process. Don't go to the supermarket without it." —Ann Louise Gittleman, Ph.D., C.N.S., and award-winning NY Times bestselling author of The Fat Flush Plan and Zapped