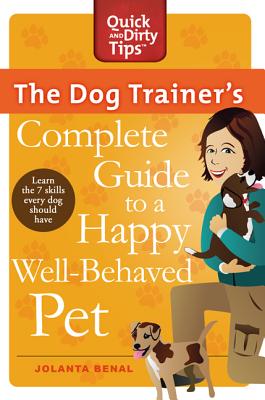 The Dog Trainer's Complete Guide to a Happy, Well-Behaved Pet
Learn the Seven Skills Every Dog Should Have (Quick & Dirty Tips)
Paperback

* Individual store prices may vary.
Description
If you want to raise a happy dog who loves to play and cuddle--but still comes when called and doesn't chew up your favorite shoes--you need Jolanta Benal's The Dog Trainer's Complete Guide to a Happy, Well-Behaved Pet.

Jolanta's dog-training philosophy is simple: playful, rewards-based training fosters sociable, polite behavior that is the hallmark of a likeable dog. Harsh, outdated prong collars and choke chains do not.
Whether you've just welcomed a new puppy into your life, or are facing some struggles with an already beloved family member, Jolanta has sound advice on everything you want to know, including:

• How to housetrain your dog for good
• How to read your dog's body language
• How to avoid common training mistakes and fix the ones you've already made

Jolanta's warm, funny tone and encouraging conversational style will teach you to raise the most loving and best-behaved pooch on the block.
St. Martin's Griffin, 9780312678227, 288pp.
Publication Date: November 8, 2011
About the Author
Jolanta Benal never had dogs until she was persuaded to adopt a stray 11 years ago. Now, Jolanta is a Certified Professional Dog Trainer and the host of The Dog Trainer's Quick and Dirty Tips for Teaching and Caring for Your Pet, which iTunes named a top podcast of 2009. She is also a member of the Association of Pet Dog Trainers and was a founding member of the International Association of Animal Behavior Consultants, serving as the first associate editor of its journal, Animal Behavior Consulting: Theory and Practice. Active in the movement to professionalize dog training and behavior consulting and put them on a sound scientific basis, she has studied with the eminent trainer Pat Miller and taken academic courses in canine cognition and learning, as well as regularly attending scientific seminars on behavior and training. Jolanta sees private clients in Brooklyn and Manhattan.