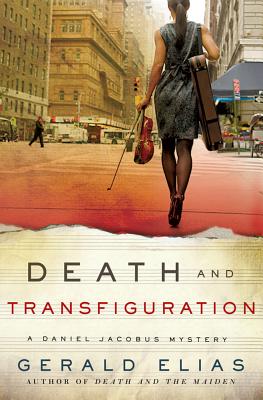 Death and Transfiguration: A Daniel Jacobus Novel (Hardcover)
A Daniel Jacobus Novel
Minotaur Books, 9780312678357, 336pp.
Publication Date: June 19, 2012
* Individual store prices may vary.
or
Not Currently Available for Direct Purchase
Description
The fourth book in the series featuring the irascible but loveable amateur sleuth Daniel Jacobus
Vaclav Herza, the last of a dying breed of great but tyrannical conductors, has been music director of Harmonium for forty years. The world famous touring orchestra was created for him when he fled Czechoslovakia for America during the political turmoil in Eastern Europe in 1956. It is the eve of the opening of a dramatic new concert hall designed by Herza himself. It is also the eleventh hour of intense contract negotiations with the musicians that have strained relations within the organization. When the acting concertmaster, Scheherazade O'Brien, is summarily dismissed by the despotic Herza for the permanent concertmaster position, an audition she was poised to win, O'Brien slits her wrists and the orchestra becomes convulsed. Now, blind, cantankerous violin teacher Daniel Jacobus, who had shunned O'Brien's earlier plea for help against Herza's relentless harassment, investigates Herza's dark past not only in Prague, but in Tokyo and New York. With the help of his old friends Nathaniel Williams, Max Furukawa, and Martin Lilburn, he seeks not only revenge but redemption from the guilt of his own past.
About the Author
A graduate of Yale, GERALD ELIAS has been a Boston Symphony violinist, Associate Concertmaster of the Utah Symphony, adjunct professor of music at the University of Utah, first violinist of the Abramyan String Quartet, and Music Director of the Vivaldi Candlelight concert series. He is also the author of Devil's Trill, selected by Barnes and Noble for their 2009 Discover Great New Writers catalog, and Danse Macabre, hailed as one of the top five mysteries in 2010 by Library Journal.
Praise For Death and Transfiguration: A Daniel Jacobus Novel…
Praise for Death and Transfiguration
Booklist Starred Review
The title, from Richard Strauss' tone poem for orchestra, brilliantly fits Elias' latest mystery, in which the musician Daniel Jacobus confronts the wreckage of his own life as well as that of a talented young violinist. Jacobus has been sidelined from his career as a violinist with the Boston Symphony Orchestra for decades, ever since he was stricken with sudden blindness on the very day he won the concertmaster position. He is unrelentingly and refreshingly acerbic, living in a dust-laden house in the Berkshires, only occasionally giving lessons to truly gifted violinists, to whom he imparts hard-won knowledge about the treacheries endemic to the professional music world. Author Elias, a violinist himself, is the perfect guide through this underworld: the scenes of auditions and rehearsals have a tension only someone in the know could bring to them, and his criticism of how orchestras transform "thoroughbred" musicians into "packhorses" rings with authenticity. The latest Jacobus mystery centers on a brilliant young woman who slits her wrists, formally ending her career, after a series of humiliating encounters with a sociopathic conductor. This woman had sought Jacobus' help with a harassment suit, asking him to investigate the conductor's background. Jacobus' refusal, and his subsequent guilt over the woman's self-inflicted injury, propels him into an exploration of the conductor's past. Brilliant and captivating on every level.
—Connie Fletcher
Publishers Weekly Starred Review
Near the start of Elias's finely tuned, wickedly funny fourth mystery featuring crotchety blind violinist Daniel Jacobus (after 2011's Death and the Maiden), 41-year-old violinist Sherry O'Brien asks for his help with her audition for concertmaster of the prestigious Harmonium Orchestra. Jacobus, cantankerous as usual, brushes her off. When Sherry kills herself after confronting the orchestra's notoriously egotistical and caustic director, Vaclav Herza, who emigrated from Czechoslovakia 40 years earlier, Jacobus enlists the aid of his sighted friends to probe into Herza's past, long rumored to be unsavory. Memorable and shocking encounters in Prague and Tokyo alternate with pungent scenes of rancorous contract negotiations, nail-biting auditions, and the clash of wills between conductor and players, all on the eve of the orchestra's inauguration of their new concert hall built on landfill off the southern tip of Manhattan. There's just one word for this book: bravo!
The Mystery Gazette
The fourth Daniel Jacobus amateur sleuth (see Death and the Maiden, The Devil's Trill and Danse Macabre) is an entertaining mystery as the cantankerous protagonist believes he has one more major addition to his redemption list. Humorous, readers obtain a look behind the scenes at a major orchestra. Still, it is virtuoso Jacobus who makes this a fun tale as the acrimonious violinist probes Herza's history.
—Harriet Klausner
Advertisement