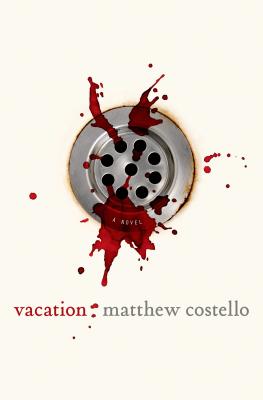 Vacation (Hardcover)
Thomas Dunne Books, 9780312680077, 320pp.
Publication Date: September 27, 2011
* Individual store prices may vary.
Description
In the near future after a global crisis causes crops to fail and species to disappear . . .  something even more deadly happens. Groups of humans around the world suddenly become predators, feeding off their own kind. These "Can Heads" grow to such a threat that fences, gated compounds, and SWAT-style police protection become absolutely necessary in order to live.

After one Can Head attack leaves NYPD cop Jack Murphy wounded, Jack takes his wife and kids on a much-needed vacation. Far up north, to a camp where families can still swim and take boats out on a lake, and pretend that the world isn't going to hell.

But the Can Heads are never far away, and nothing is quite what it seems in Paterville. . . .
About the Author
Matthew Costello's writing includes groundbreaking and innovative games, books, and television. His bestselling and award-winning computer and video games include "The 7th Guest," " Doom 3, "and" Pirates of the Caribbean." His early horror novel, "Beneath""Still Waters," was filmed by Lionsgate. "Rage," a novel based on the recently released game that he worked on, was published this August. His children's books include "The Kids of Einstein Elementary "and" Magic Everywhere." Matt has also written episodes and created TV formats for PBS, Disney, Syfy, and the BBC, and he consults on media around the world. Visit Matt online at www.mattcostello.com.
Praise For Vacation…
"I absolutely devoured Vacation by Matthew Costello. It's dark, subversive, deeply disturbing and absolutely compelling." —Jonathan Maberry, New York Times bestselling author of The King of Plagues and Dead of Night

"Costello takes a typical family and throws them headfirst into a situation that's anything but. What would you do to protect those you love at the end of the world? A thrilling, fast-paced story of priorities, secrets, and survival." —David Moody, author of the HATER and AUTUMN series

"Costello is a master at lean, swift pacing.  I read this book in three big gulps.  And had life not intruded I'd have swallowed it whole..." —Jack Ketchum, award-winning horror author

"Unstoppable... undeniable... un-put-down-able... Matthew Costello's Vacation is a hybrid horror/action/SF classic!  Working at the height of his powers, Costello crafts a lean, terse, terrifying juggernaut of a book, which blends the minimalist punch of James Ellroy with the ravenous blitzkrieg of Danny Boyle's fleet-footed zombies in 28 Days Later.  Set aside several uninterrupted hours, because once you crack this open you're going to be sprinting breathlessly to the last page.  Highest recommendation! —Jay Bonansinga, National Best-selling co-author of The Walking Dead: Rise of the Governor, Frozen, and The Sinking of Eastland

"Matt Costello's work has always been impressive, but Vacation is just flat-out amazing. Truly epic in scope, this astounding science-fiction/horror hybrid has 'Soon to be a Major Motion Picture' written all over it." —Bentley Little, Stoker Award-winning author of The Store

"Not since Matheson's I Am Legend has there been such a cool twist on the horror/thriller genre.  Matt Costello gives us a fast paced and violent glimpse of a terrifying near-future through the eyes of an ordinary family.  Just when I thought it was safe to go on Vacation…" —Brian Yuzna, writer/director of Bride of Re-Animator

"Vacation is a tense, visceral trip through a violent, unraveling world, and a portrait of hope in a hopeless time.  Matthew Costello has painted a breathless nightmare that is slick, compelling, and impossible to put down." —Christopher Golden

"Costello offers a terrifying view into a dystopian future and a perhaps even more frightening look at the baser side of humanity. The cracking pace makes this a perfect choice for horror fans who want to be kept up late reading." —ALA's Booklist

"Patrolman Jack Murphy, forced to leave a besieged New York City where he battles feral cannibals, gathers his family and heads for the hills in this tense apocalyptic thriller." —Publisher's Weekly

"Who could have guessed that the author of Vacation is best known as a video-game writer? Well, duh. Once you're plugged into Matthew Costello's apocalyptic novel, there's no friggin' way to get off this ride. The unrelenting, staccato rhythm of the narrative perfectly matches the enervating effects of video gaming. So, like, survivors of a global agricultural plague in the near future try to avoid being eaten by the zombie "Can Heads" unleashed by the government's nefarious genetic testing (dude!). Each horrific confrontation works along a jagged crescendo of unpredictability. The hero isn't only saving his beloved wife and kids, he's saving civilization (OK, maybe). If this novel doesn't appear soon in software format, I'll eat the next NYPD officer whose car breaks down in my neighborhood." —Bookpage

"Vacation is a gripping post-apocalyptic horror thriller." —Harriet Klausner

"I loved the book. I read the entire thing in one day. Vacation —I just couldn't put down. It's a non-stop thrill ride from start to finish." —http://www.hippiesbeautyandbooksohmy.com/

"It's dark and dirty fun in a semi post-apocalyptic setting. The only thing that would have made this a more perfect read would be if I'd read it in a cabin in the woods!" —nomoregrumpybookseller.blogspot.com
or
Not Currently Available for Direct Purchase