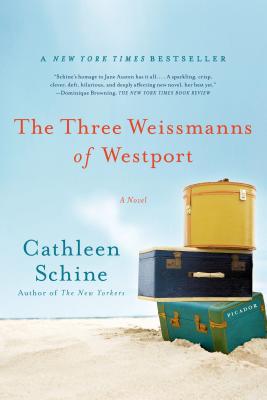 The Three Weissmanns of Westport
A Novel
Paperback

* Individual store prices may vary.
Other Editions of This Title:
Digital Audiobook (2/1/2010)
MP3 CD (2/2/2010)
Compact Disc (3/1/2010)
Compact Disc (2/2/2010)
Description
A New York Times Best Seller
A New York Times Book Review Editors' Choice

Betty Weissmann has just been dumped by her husband of forty-eight years. Exiled from her elegant New York apartment by her husband's mistress, she and her two middle-aged daughters, Miranda and Annie, regroup in a run-down Westport, Connecticut, beach cottage. In Schine's playful and devoted homage to Jane Austen's Sense and Sensibility, the impulsive sister is Miranda, a literary agent entangled in a series of scandals, and the more pragmatic sister is Annie, a library director, who feels compelled to move in and watch over her capricious mother and sister. Schine's witty, wonderful novel The Three Weissmanns of Westport "is simply full of pleasure: the pleasure of reading, the pleasure of Austen, and the pleasure that the characters so rightly and humorously pursue….An absolute triumph" (The Cleveland Plain Dealer).
Praise For The Three Weissmanns of Westport: A Novel…
"Schine's homage to Jane Austen has it all....A sparkling, crisp, clever, deft, hilarious, and deeply affecting new novel, her best yet . . . Schine is clearly a writer who loves to read as much as she loves to write. And it is great fun to play English major with her." —Dominique Browning, The New York Times Book Review

"Schine has been favored in so many ways by the muse of comedy . . . The Three Weissmanns of Westport is full of invention, wit, and wisdom that can bear comparison to Austen's own." —The New York Review of Books

"A success…Sharp-edged satire." —Marion Winik, The Miami Herald

"A clever, frothy novel…Schine playfully probes the lies, self-deceptions, and honorable hearts of her characters." —The New Yorker

"Schine sets the Austen machinery in perfect forward motion, and then works some lovely modern changes, keeping the pace going at a lively clip . . . Spotting the similarities and differences between the early 19th century and early 21st century stories is good sport, but the greater pleasure comes from Schine's own clever girls and their awkward attempts to find happiness." —The Boston Globe

"There is so much zest for life in this novel that you can only imagine how much fun Cathleen Schine had writing it." —Carol Memmott, USA Today

"Absolutely wonderful. You'll turn each page with anticipation, all the while wishing you could read it slowly in order to savor the deliciousness of Schine's particular sensibility….It will warm the center of your heart." —Elizabeth Strout, Pulitzer Prize-winning author of Olive Kitteridge

"Swap genteel nineteenth-century England for upscale contemporary Connecticut, add two sisters--one impulsive, one practical--and stir with lively doses of romance, domestic discord, sudden setbacks, and sublime surprises, and you get Cathleen Schine's homage to Jane Austen." —Elle

"No Cathleen Schine book is without wit and sharply observed moments." —The Wall Street Journal

"A geriatric stepfather falls in love with a scheming woman half his age in Schine's Sense and Sensibility–flecked and compulsively readable follow-up to The New Yorkers... It's a smart crowd pleaser with lovably flawed leads and the best tearjerker finale you're likely to read this year." —Publishers Weekly
Picador, 9780312680527, 304pp.
Publication Date: February 1, 2011
About the Author
Cathleen Schine is the author of They May Not Mean To, But They Do, The Three Weissmanns of Westport, and The Love Letter, among other novels. She has contributed to The New Yorker, The New York Review of Books, The New York Times Magazine, and The New York Times Book Review. She lives in Los Angeles.
How do Betty and her daughters relate to men? Do the three women have the same expectations about love and relationships?
How do the Weissmann women define "home"? What does the Manhattan apartment mean to them? What do their reactions to the Westport cottage say about their personalities? Would you have enjoyed living there?
In Sense and Sensibility, Mrs. Dashwood does her best to help her family thrive despite dwindling fortunes. What challenges do women still face in such situations, even with the cultural changes that have taken place since Jane Austen was writing?
Which cad is worse: Schine's Kit Maybank or Austen's John Willoughby? If Miranda could meet Marianne, what advice would the two characters give each other?
The fact that Miranda and Annie are not Joseph's biological children also mirrors Austen's plot. Would Joseph have handled the divorce differently if the girls had been his biological daughters?
Is Frederick a good father to Gwen and Evan? What stokes Annie's attraction to him throughout the novel?
Is Betty very much like her relatives? Which of your family members would you turn to if you were in her situation?
What accounts for the similarities and differences between Annie and Miranda? Are both women simply driven by their temperaments, or have they shaped each other's personalities throughout their lives? How does their relationship compare to yours with your own siblings?
Schine's work often blends humor with misfortune, such as Miranda's undoing by authors who turn out to be plagiarists and extreme fabricators. What other aspects of the novel capture the tragicomic way life unfolds?
Why is it so hard for Joseph to understand why his stepdaughters are mad at him? Why does he prefer Felicity to Betty? Discuss the revelations about Amber. In what way is her romantic situation similar to Felicity's?
Ultimately, how do the Weissmanns reconcile sense with sensibility? Who are the book's most rational characters? Who is the most emotional?
What makes Roberts remarkable (eventually)? Who are the overlooked "characters" in your life story?
What aspects of the ending surprised you the most? What had you predicted for Betty, and for Leanne? Do the novel's closing scenes reflect an Austen ending?
Does the storytelling style in The Three Weissmanns of Westport remind you of Schine's other portraits of love? What makes the Weissmanns' story unique?