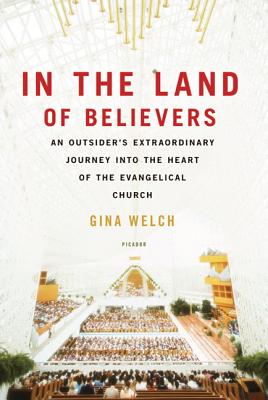 In the Land of Believers (Paperback)
An Outsider's Extraordinary Journey into the Heart of the Evangelical Church
Picador, 9780312680701, 352pp.
Publication Date: March 1, 2011
* Individual store prices may vary.
Description
Ever since evangelical Christians rose to national prominence, mainstream America has tracked their every move with a nervous eye. But in spite of this vigilance, our understanding hasn't gone beyond the caricatures. Aiming to find out more, Gina Welch, a young secular Jew from Berkeley, joined Jerry Falwell's Thomas Road Baptist Church. Over the course of nearly two years, Welch immersed herself in the life and language of the devout. Alive to the meaning behind the music and the mind behind the slogans, Welch recognized the allure of evangelicalism, even for the godless, realizing that the congregation met needs and answered questions she didn't know she had.
About the Author
Gina Welch, a 2001 graduate of Yale University, teaches English at George Washington University. Her writing has previously appeared in Meridian, Time Out New York, and Playboy. In the Land of Believers: An Outsider's Extraordinary Journey into the Heart of the Evangelical Church is her first book.
Praise For In the Land of Believers: An Outsider's Extraordinary Journey into the Heart of the Evangelical Church…
"Excellent prose with a laudable purpose: to promote understanding of evangelical Christians...
An engaging, personal look at one variant of Christian fundamentalism." —Library Journal
"An engaging, personal look at one variant of Christian fundamentalism." —Library Journal
"An amazing narrative journey into the heart of the evangelical movement." —Washington Life magazine
"Memorable... A genuinely inquisitive memoir about the complicated nature of religious belief." —Kirkus Reviews
"Welch is a combination of thoughtful, funny, self-deprecating, and a skilled stylist....I am pleased I accompanied her on her journey." —The Charlotte Observer
"With compassion, wit, and verve, Gina Welch has gone where few secular liberals have dared to go--the late Jerry Falwell's Thomas Road Baptist Church--and emerged with a compelling story that transcends stereotypes and builds common ground. Both sides of the Great American Culture War should read this refreshing call for a cease-fire." —Kevin Roose, author of The Unlikely Disciple
"Gina Welch's story of her immersion in Jerry Falwell's Evangelical church is riveting. Welch is a fair, compassionate, very smart writer--and one of the most arresting narrators I've encountered in a half-century of reading." —John Casey, author of Spartina