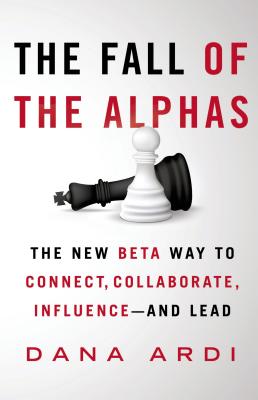 The Fall of the Alphas (Hardcover)
The New Beta Way to Connect, Collaborate, Influence---and Lead
St. Martin's Press, 9780312681937, 240pp.
Publication Date: October 1, 2013
* Individual store prices may vary.
Description
The new model for business success: replace top-down Alpha management with collaboration, connection, and increased job satisfaction—the Beta model
The Fall of the Alphas explores the sweeping changes taking place in the corporate and social cultures of today's most successful organizations. Utilizing years of advising companies of all sizes, hypergrowth startups to Fortune 500 company management teams, Dana Ardi identifies a pivotal evolutionary moment: the decline of the traditional Alpha-model (the top-down, male-dominated, authoritarian, corner-office hierarchy that has ruled organizational landscapes for so long), as it is replaced by collaboration, connectivity, and the sharing of power. As Ardi persuasively demonstrates, in the new Beta organization, it is the team players, the sage advisors, the network experts, the trusted assistants, and the communications facilitators who are coming to the fore, as savvy managers learn to lead through influence and collaboration rather than authority and competition. From technology behemoths to small and medium-sized businesses, Beta has become the new paradigm for success in today's challenging market.
With insight and practical guidance, Dana Ardi shows how any business organization or team can re-organize from Alpha to Beta—and be more effective, flexible, and profitable
About the Author
DR. DANA ARDI is a leader in the executive coaching and recruitment field, currently Executive Advisor at CCMP Capital, a global private equity firm. She is a self-proclaimed "corporate anthropologist," working with human capital to advise and transform businesses. She is the author of The Fall of the Alphas: The New Beta Way to Connect, Collaborate, Influence---and Lead. She lives in New York.
Praise For The Fall of the Alphas: The New Beta Way to Connect, Collaborate, Influence---and Lead…
"Noting the potential of higher flexibility and creativity promised by the beta model, Ardi offers solid advice on how more companies can make the switch. An insightful look at a pivotal change in business management style." —Booklist Review
"Dana Ardi explores a new world of collaborative organizations which are poised to blow past the old command and control model." —David Karp, Chief Executive Officer of Tumblr
"Dana Ardi gives a voice, and a name to the behavioral shift underway in society and business today. As I read this book, I found myself thinking intensely about her new model for leadership, and what it means for our clients and our company." —Frederick Crawford, Chief Executive Officer of AlixPartners
"The Fall of the Alphas offers a brilliant analysis for manageable transformation. Dana Ardi's insights will show you how to bring your company into the more sustainable model of collaborative structure." —Jonathan Miller, partner, Advancit Capital, former chief digital officer for News Corporation, and former CEO of AOL Inc.
or
Not Currently Available for Direct Purchase