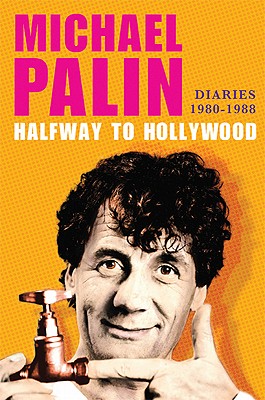 Halfway to Hollywood: Diaries 1980--1988 (Hardcover)
Diaries 1980--1988
Thomas Dunne Books, 9780312682026, 680pp.
Publication Date: March 15, 2011
* Individual store prices may vary.
or
Not Currently Available for Direct Purchase
Description
A
Kirkus Reviews
Best Nonfiction of 2011 title  The second volume of Michael Palin's diaries covers the bulk of the 1980s, a decade in which the ties binding the Pythons loosened—they made their last film
Monty Pyton's Meaning of Life
in 1983. For Michael, writing and acting took over much of his life, culminating in his appearances in
A Fish Called Wanda
, in which he played the hapless, stuttering Ken, and won a BAFTA for Best Supporting Actor.
Halfway to Hollywood
follows Palin's torturous trail through seven movies and ends with his final preparations for the documentary that was to change his life—
Around the World in 80 Days
.During these years he co-wrote and acted in Terry Gilliam's
Time Bandits
as well as spearing in Gilliam's follow-up success
Brazil
. Palin co-produced, wrote and played the lead in
The Missionary
opposite Maggie Smith, who also appeared with him in
A Private Function
, written by Alan Bennett. In television the decade was memorable
for East of Ipswich
, inspired his links with Suffolk. Such was his fame in the US, he was enticed into once again hosting the enormously popular show
Saturday Night Live
. He filmed one of the BBC's
Great Railway Journeys
as well as becoming chairman of the pressure group Transport 2000. His life with Helen and the family remains a constant, as the children enter their teens.Palin's joy of writing is evident once more in
Halfway to Hollywood
as he demonstrates his continuing sense of wonder at the world in which he finds himself. A world of screens large and small.
About the Author
MICHAEL PALIN is a scriptwriter, comedian, novelist, television presenter, actor and playwright. He established his reputation with "Monty Python's Flying Circus" and "Ripping Yarns." His work also includes several films with Monty Python, as well as "The Missionary," "A Private Function," "A Fish Called Wanda," "American Friends" and "Fierce Creatures." His television credits include two films for the BBC's "Great Railway Journeys," the plays "East of Ipswich" and "Number 27," and Alan Bleasdale's "GBH." In 2006 the first volume of his diaries, "1969-1979: The Python Years," became an international bestseller. He has also written books to accompany his seven very successful travel series, "Around the World in 80 Days," "Pole to Pole," "Full Circle," "Hemingway Adventure," "Sahara," "Himalaya" and "New Europe." He is the author of a number of children's stories, the play "The Weekend" and the novel "Hemingway's Chair."
Praise For Halfway to Hollywood: Diaries 1980--1988…
"A man as intelligent and witty as Palin is worth the effort of getting to know."--The Washington Post "Palin has a novelist's eye for character and detail, and his observations of the entertainment world, filmmaking, his family relationships, and such external details as politics, current events, travel, and the weather are written with style and a distinctly subtle wit that gives this rich volume the drive of an epistolary novel"--Library Journal
"Pythonphiles will find this essential, of course. But fans of good writing should dip into these pages, too, for Palin--Michael, not Sarah--knows his way around a book."--Kirkus Reviews
Praise for Diaries 1969-1979: The Python Years
"For Palin it has been one hell of a ride, but he seems to have maintained equilibrium all along the way. . . . In sum, it's tempting to call him a Renaissance Man. But that, as any Pythonite would be quick to tell you, would be silly." —Jonathan Yardley, The Washington Post Book World
 "Michael Palin is not just one of Britain's foremost comedy character actors, he also talks a lot. Yap, yap, yap he goes, all day long and through the night . . . then, some nights, when everyone else has gone to bed, he goes home and writes up a diary." —John Cleese

"Charming and at times revelatory . . . A voice of (relative sanity) in the eye of a comedic storm, Palin paints so vivid a picture that the reader becomes a Python by proxy." —The New York Times Book
Review"It is terrifically good: funny, astute, and wonderfully written. . . . "—The Boston Globe

"This combination of niceness, with his natural volubility, creates Palin's expansiveness." ---David Baddiel, The Times

"A real delight to read." ---Saga Magazine (UK)

"His showbiz observations are so absorbing. . . . Palin is an elegant and engaging writer." ---William Cook, The Guardian (UK)

"A wealth of fascinating stuff about Monty Python." ---The Independent (UK)

"Our favourite TV explorer shows us the workings of an unstoppable machine." ---Daily Express (UK)

"A riveting commentary to a remarkably creative decade." ---Academy (UK)
Advertisement