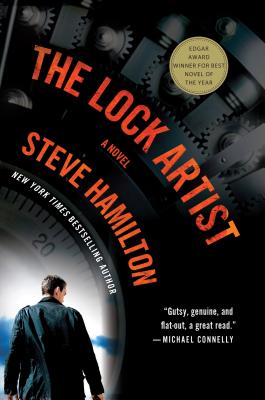 The Lock Artist
A Novel
Paperback

* Individual store prices may vary.
Other Editions of This Title:
MP3 CD (3/31/2015)
Compact Disc (12/1/2012)
Description
"I was the Miracle Boy, once upon a time. Later on, the Milford Mute. The Golden Boy. The Young Ghost. The Kid. The Boxman. The Lock Artist. That was all me.
But you can call me Mike."


Marked by tragedy, traumatized at the age of eight, Michael, now eighteen, is no ordinary young man. Besides not uttering a single word in ten years, he discovers the one thing he can somehow do better than anyone else. Whether it's a locked door without a key, a padlock with no combination, or even an eight-hundred pound safe ... he can open them all.

It's an unforgivable talent. A talent that will make young Michael a hot commodity with the wrong people and, whether he likes it or not, push him ever close to a life of crime. Until he finally sees his chance to escape, and with one desperate gamble risks everything to come back home to the only person he ever loved, and to unlock the secret that has kept him silent for so long.

Steve Hamilton steps away from his Edgar Award-winning Alex McKnight series to introduce a unique new character, unlike anyone you've ever seen in the world of crime fiction.

The Lock Artist is the winner of the 2011 Edgar Award for Best Novel.
Praise For The Lock Artist: A Novel…
"This one is too good for words." —The New York Times Book Review

"Hamilton … understands what's truly scary, what's truly suspenseful." —The Washington Post

"The Lock Artist is superior in every way: intriguing, carefully crafted characters and a devious plot, all told in the haunting voice of a young man who has no voice. Just for spice, there's a really good love story, too. . . . Hamilton slowly builds this story in layers, using time as a device of suspense and never losing the threads. How and why Mike ended up in jail is only a small part of this incredibly clever novel." —The Globe and Mail

"Mike is one of those unreliable narrators you can't help rooting for-- a traumatized soul fighting his way back from the brink-- and the mystery of his silence will have you blazing through pages. A smart, inventive thriller, The Lock Artist is packed with a standout cast of characters, plus enough safe-cracking trade secrets to tempt you to dig up that old combination lock and test your newfound knowledge." —Louisville Courier Journal

"An enthralling read . . . Michael [is] an utterly believable and thoroughly captivating character . . . The Lock Artist is a terrific coming-of-age tale and a great crime novel all wrapped in one, with a liberal sprinkling of romance and teenage rebellion to boot." —San Francisco Book Review

"Fascinating, with enough bits of high-voltage action to keep the pulse pounding." —Houston Chronicle

"The unconventional The Lock Artist surpasses even Hamilton's high standards. . . . Hamilton delves deeply into Mike's psyche, saving the tragedy that propelled him to silence until near the end. When the story of why Mike cannot speak is revealed, it is a devastating moment and Hamilton knows how to draw out all the emotional impact." —Florida Sun-Sentinel

"The Lock Artist is far more than a suspenseful heist caper. It's the story of a boy emerging into his own life… The talent Steve Hamilton has developed over the course of the Alex McKnight series is in full bloom here in this daring and deeply satisfying novel." —Reviewing the Evidence

"Propelled by an aching desire to recover his voice, [protagonist] Mike has brushes with the law, flirts with romance and makes alliances with criminals, from rank amateurs to consummate professionals. Along the way, Hamilton drops tantalizing clues about Mike's troubled past and his uncertain future. Readers will hope to hear more from Mike." —Publishers Weekly

"Sharp prose and a strong cast." —Kirkus Reviews

"Intense and involving." —Booklist

"Hamilton has a knack for weaving a complicated web of intrigue and irony and a knack for hoisting the system on its own petard." —Chronogram Magazine

"Hamilton maintains a seamless narrative of escalating suspense as he juggles alternating adolescent and late-teen storylines that merge in the revelation of Mike's brutal secret. With this absorbing coming-of-age tale scarred by horror and adversity, the New York author breathes new life into the oldest chestnut of all, the redemptive power of love." —Winnipeg Free Press

"Hypnotic ... a proven master of suspense moves in a brand new direction - and the result is can't-put-it-down spectacular." —Lee Child

"I haven't read a book this captivating in a long time. The Lock Artist is gutsy, genuine and, flat out, a great read. You won't be disappointed." —Michael Connelly

"Hamilton's prose . . . remains an unself-consciously terse pleasure." —Entertainment Weekly on Blood Is the Sky

"Steve Hamilton writes the kind of stories that manly men and tough-minded women can't resist." —The New York Times on North of Nowhere

"A Stolen Season is one of those mysteries that lulls readers into a sense of security, but nothing is certain here." —Washington Post Book World on A Stolen Season

"Ice Run turns on edge-of-the-seat psychological suspense that Hamilton has honed to precision." —Florida Sun-Sentinel on Ice Run

"Hamilton's prose moves us smoothly along and his characters are marvelously real." —Publishers Weekly (starred review) on The Hunting Wind
Minotaur Books, 9780312696955, 336pp.
Publication Date: March 1, 2011
About the Author
Steve Hamilton was born and raised in Detroit, and graduated from the University of Michigan where he won the prestigious Hopwood Award for fiction. In 2006, he won the Michigan Author Award for his outstanding body of work. His novels have won numerous awards and media acclaim beginning with the very first in the Alex McKnight series, A Cold Day in Paradise, which won the Private Eye Writers of America/St. Martin's Press Award for Best First Mystery by an Unpublished Writer. Once published, it went on to win the MWA Edgar and the PWA Shamus Awards for Best First Novel, and was short-listed for the Anthony and Barry Awards. His book The Lock Artist is the winner of the 2011 Edgar Award for Best Novel. Hamilton currently works for IBM in upstate New York where he lives with his wife Julia and their two children.