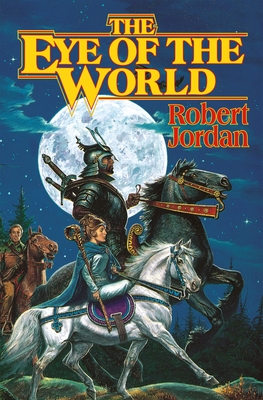 The Eye of the World
Book One of The Wheel of Time
Hardcover

* Individual store prices may vary.
Other Editions of This Title:
Digital Audiobook (4/30/2004)
Mass Market (10/29/2019)
Paperback (8/11/2020)
Hardcover (10/6/2020)
Paperback (2/15/1990)
Hardcover (1/29/2013)
Compact Disc (4/6/2004)
CD-Audio (5/5/2015)
Compact Disc (5/1/2004)
Hardcover (11/1/2011)
Prebound (11/15/1990)
Mass Market Paperback (9/1/2000)
Mass Market (11/15/1990)
Paperback (5/8/2012)
Description
Soon to be an original series starring Rosamund Pike as Moiraine!

The first novel in Robert Jordan's #1 New York Times bestselling epic fantasy series, The Wheel of Time®.

The Wheel of Time turns and Ages come and pass, leaving memories that become legend. Legend fades to myth, and even myth is long forgotten when the Age that gave it birth returns again. What was, what will be, and what is, may yet fall under the Shadow.

When The Two Rivers is attacked by Trollocs--a savage tribe of half-men, half-beasts--five villagers flee that night into a world they barely imagined, with new dangers waiting in the shadows and in the light.

Since its debut in 1990, The Wheel of Time® has captivated millions of readers around the globe with its scope, originality, and compelling characters. The last six books in series were all instant #1 New York Times bestsellers, and The Eye of the World was named one of America's best-loved novels by PBS's The Great American Read.

The Wheel of Time®
New Spring: The Novel
#1 The Eye of the World
#2 The Great Hunt
#3 The Dragon Reborn
#4 The Shadow Rising
#5 The Fires of Heaven
#6 Lord of Chaos
#7 A Crown of Swords
#8 The Path of Daggers
#9 Winter's Heart
#10 Crossroads of Twilight
#11 Knife of Dreams

By Robert Jordan and Brandon Sanderson
#12 The Gathering Storm
#13 Towers of Midnight
#14 A Memory of Light

By Robert Jordan
Warrior of the Altaii

By Robert Jordan and Teresa Patterson
The World of Robert Jordan's The Wheel of Time

By Robert Jordan, Harriet McDougal, Alan Romanczuk, and Maria Simons
The Wheel of Time Companion

By Robert Jordan and Amy Romanczuk
Patterns of the Wheel: Coloring Art Based on Robert Jordan's The Wheel of Time
Praise For The Eye of the World: Book One of The Wheel of Time…
"Jordan has come to dominate the world that Tolkien began to reveal." —The New York Times

"Jordan is able to take ... familiar elements and make them his own, in a powerful novel of wide and complex scope. Open religious and political conflicts add a gritty realism, while the cities and courts provide plenty of drama and splendor. Women have a stronger role than in Tolkien.... Each character in this large cast remains distinct.... Their adventures are varied, and exciting.... The Eye of the World stands alone as a fantasy epic." —Locus

"Robert Jordan has created a fantasy world as tangible and credible as history. He has a fine eye for detail and a vivid sense of drama." —Morgan Llewelyn

"Robert Jordan's The Eye of the World proves that there's still plenty of life in the ancient tradition of epic fantasy. Jordan has a powerful vision of good and evil-- but what strikes me as most pleasurable about The Eye of the World is all the fascinating people moving through a rich and interesting world." —Orson Scott Card

"Jordan's world is rich in detail and his plot is rich in incident. Impressive work, and highly recommended." —ALA Booklist
Tor Books, 9780312850098, 688pp.
Publication Date: January 15, 1990
About the Author
ROBERT JORDAN (1948-2007) is best known for his internationally bestselling epic fantasy series The Wheel of Time®, which has sold over 40 million copies in North America and is currently being adapted for the screen. A native of Charleston, Jordan graduated from The Citadel, the Military College of South Carolina, with a degree in physics. He served two tours in Vietnam with the U.S. Army and received multiple decorations for his service.