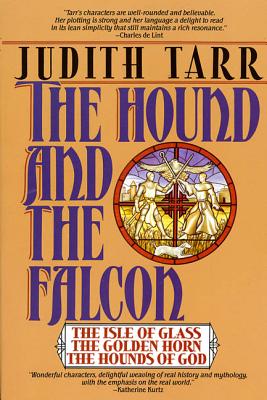 The Hound and the Falcon
The Isle of Glass, The Golden Horn, The Hounds of God (Hound and Falcon Omnibus)
Paperback

* Individual store prices may vary.
Description
Alfred of St. Ruan's Abbey is a monk and a scholar, a religious man whose vocation is beyond question. But Alfred is also, without a doubt, one of the fair folk, for though he is more than seventy years old by the Abbey's records, he seems to be only a youth.

But Alfred is drawn from the haven of his monastery into his dangerous currents of politics when an ambassador from the kingdom of Rhiyana to Richard Coeur de Leon is wounded and Alfred himself is sent to complete the mission. There he encounters the Hounds of God, who believe that the fair folk have no souls, and must be purged from the Church and from the world.
Praise For The Hound and the Falcon: The Isle of Glass, The Golden Horn, The Hounds of God (Hound and Falcon Omnibus)…
"Judith Tarr is one of the undeniable experts in the historical fantasy form." —Booklist

"Wonderful characters, delightful weaving of real history and mythology, with the emphasis on the real world." —Katherine Kurtz

"Tarr's characters are well-rounded and believable. Her plotting is strong and her language a delight to read in its lean simplicity that still maintains a rich resonance." —Charles de Lint
Orb Books, 9780312853037, 688pp.
Publication Date: May 15, 1993
About the Author
Judith Tarr is the author of more than twenty widely praised novels, including The Throne of Isis, White Mare's Daughter, and Queen of Swords, as well as five previous volumes in the Avaryan Chronicles: The Hall of the Mountain King, The Lady of Han-Gilen and A Fall of Princes (collected in one volume as Avaryan Rising), Arrows of the Sun, and Spear of Heaven. A graduate of Yale and Cambridge University, Judith Tarr holds degrees in ancient and medieval history, and breeds Lipizzan horses at Dancing Horse Farm, her home in Vail, Arizona.