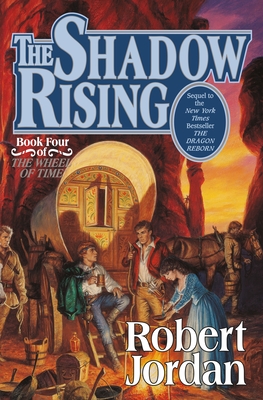 The Shadow Rising (Hardcover)
Tor Books, 9780312854317, 704pp.
Publication Date: September 15, 1992
Description
The seals of Shayol Ghul are weak now, and the Dark One reaches out. The Shadow is rising to cover humankind.
In Tar Valon, Min sees portents of hideous doom. Will the White Tower itself be broken?
In the Two Rivers, the Whitecloaks ride in pursuit of a man with golden eyes, and in pursuit of the Dragon Reborn.
In Cantorin, among the Sea Folk, High Lady Suroth plans the return of the Seanchan armies to the mainland.
In the Stone of Tear, the Lord Dragon considers his next move. It will be something no one expects, not the Black Ajah, not Tairen nobles, not Aes Sedai, not Egwene or Elayne or Nynaeve.
Against the Shadow rising stands the Dragon Reborn.....
About the Author
Robert Jordan was born in 1948 in Charleston, South Carolina. He taught himself to read when he was four with the incidental aid of a twelve-years-older brother, and was tackling Mark Twain and Jules Verne by five. He is a graduate of The Citadel, the Military College of South Carolina, with a degree in physics. He served two tours in Vietnam with the U.S. Army; among his decorations are the Distinguished Flying Cross with bronze oak leaf cluster, the Bronze Star with "V" and bronze oak leaf cluster, and two Vietnamese Gallantry Crosses with palm. A history buff, he has also written dance and theater criticism and enjoyed the outdoor sports of hunting, fishing, and sailing, and the indoor sports of poker, chess, pool, and pipe collecting.Robert Jordan began writing in 1977 and went on to write The Wheel of Time(R), one of the most important and best selling series in the history of fantasy publishing with over 14 million copies sold in North America, and countless more sold abroad.Robert Jordan died on September 16, 2007, after a courageous battle with the rare blood disease amyloidosis.
Praise For The Shadow Rising…
"Large and splendid. The saga reaches a new level of emotional impact." --Chicago Sun-Times

"Fast and absorbing...will keep the reader...entranced." --Publishers Weekly

"An exciting, well-written adventure, Jordan offers distinctive heroes and themes, including an interesting look at relations between the sexes." --Milwaukee Sentinel

"A complex tapestry of fascinating characters, descriptive details and events. I highly recommend this series to anyone who loves epic fantasy." --Carol Lynn Ukockis, Galactic Dispatch

"Robert Jordan writes with the stark vision of light and darkness, and sometimes childish sense of wonder, that permeates J.R.R. Tolkien's work. His style is undebatably his own." --The Pittsburgh Press
Advertisement