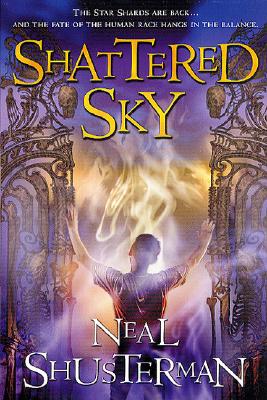 Shattered Sky (Hardcover)
Tor Books, 9780312855086, 416pp.
Publication Date: June 1, 2002
Other Editions of This Title:
Paperback (5/7/2013)
Hardcover (5/7/2013)
* Individual store prices may vary.
Description
It began innocently enough: six children conceived at the exact moment that the star Mentaras-H went supernova.

The explosion transformed their souls into living star fragments. It also conferred upon each of them a unique but mysterious power -a power that until they learned its secret masqueraded as a warping disfigurement. For some, it was physical. For others, it was emotional. But for ALL six it meant one thing: their lives would never be the same.

In time they unlocked the secret of their power. Their gifts brought them incredible riches and attention. Once despised for their deformities, they would come to be worshiped-and feared-as gods. But with unlimited power would come the temptation to abuse it and-in a desperate struggle for supremacy-the risk of turning against one another like hungry wolves.

But only now will the true cost of their gifts be revealed.

A new and terrifying force has been loosed in the universe. It infects an alien planet like a rampaging virus. When the inhabitants of the doomed planet are forced to flee, they must conquer and colonize a new planet.

Their choice: Earth.

Only one power exists that could conceivably prevent the extermination of the human race: the Star Shards. But only if the six put aside their titanic egos and join forces.

Welcome to Judgment Day.
or
Not Currently Available for Direct Purchase