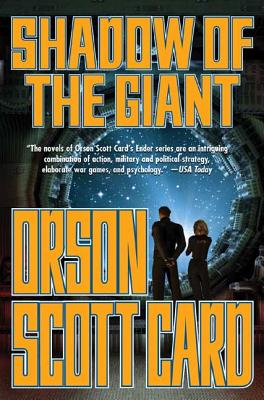 Shadow of the Giant (Hardcover)
Limited Edition - Leather Bound (The Shadow Series #4)
Tor Books, 9780312857585, 368pp.
Publication Date: March 1, 2005
* Individual store prices may vary.
Description
Bean's past was a battle just to survive. He first appeared on the streets of Rotterdam, a tiny child with a mind leagues beyond anyone else. He knew he could not survive through strength; he used his tactical genius to gain acceptance into a children's gang, and then to help make that gang a template for success for all the others. He civilized them, and lived to grow older. Then he was discovered by the recruiters for the Battle School.
For Earth was at war - a terrible war with an inscrutable alien enemy. A war that humanity was near to losing. But the long distances of interstellar space has given hope to the defenders of Earth - they had time to train military geniuses up from childhood, forging them into an irresistible force in the high-orbital facility called the Battle School. That story is told in two books, Orson Scott Card's beloved classic Ender's Game, and its parallel, Ender's Shadow. Now, in Shadow of the Giant, Bean's story continues.
Bean was the smallest student at the Battle School, but he became Ender Wiggins' right hand, Since then he has grown to be a power on Earth. He served the Hegemon as strategist and general in the terrible wars that followed Ender's defeat of the alien empire attacking Earth. Now he and his wife Petra yearn for a safe place to build a family - something he has never known - but there is nowhere on Earth that does not harbor his enemies - old enemies from the days in Ender's Jeesh, new enemies from the wars on Earth. To find security, Bean and Petra must once again follow in Ender's footsteps. They must leave Earth behind, in the control of the Hegemon, and look to the stars.
About the Author
Orson Scott Card is best known for his science fiction novel Ender's Game and its many sequels that expand the Ender Universe into the far future and the near past. Those books are organized into the Ender Quintet, the five books that chronicle the life of Ender Wiggin; the Shadow Series, that follows on the novel Ender's Shadow and are set on Earth; and the Formic Wars series, written with co-author Aaron Johnston, that tells of the terrible first contact between humans and the alien "Buggers." Card has been a working writer since the 1970s. Beginning with dozens of plays and musical comedies produced in the 1960s and 70s, Card's first published fiction appeared in 1977 -- the short story "Gert Fram" in the July issue of The Ensign, and the novelette version of "Ender's Game" in the August issue of Analog. The novel-length version of Ender's Game, published in 1984 and continuously in print since then, became the basis of the 2013 film, starring Asa Butterfield, Harrison Ford, Ben Kingsley, Hailee Steinfeld, Viola Davis, and Abigail Breslin. Card was born in Washington state, and grew up in California, Arizona, and Utah. He served a mission for the LDS Church in Brazil in the early 1970s. Besides his writing, he runs occasional writers' workshops and directs plays. He frequently teaches writing and literature courses at Southern Virginia University.
He is the author many sf and fantasy novels, including the American frontier fantasy series "The Tales of Alvin Maker" (beginning with Seventh Son), There are also stand-alone science fiction and fantasy novels like Pastwatch and Hart's Hope. He has collaborated with his daughter Emily Card on a manga series, Laddertop. He has also written contemporary thrillers like Empire and historical novels like the monumental Saints and the religious novels Sarah and Rachel and Leah. Card's recent work includes the Mithermages books (Lost Gate, Gate Thief), contemporary magical fantasy for readers both young and old. Card lives in Greensboro, North Carolina, with his wife, Kristine Allen Card, He and Kristine are the parents of five children and several grandchildren.
Praise For Shadow of the Giant: Limited Edition - Leather Bound (The Shadow Series #4)…
"This fine follow-up to Ender's Shadow features that novel's hero, Bean (now a young man), wrestling with Card's trademark: superbly real moral and ethical dilemmas....The complexity and serious treatment of the book's young protagonists will attract many sophisticated YA readers, while Card's impeccable prose, fast pacing and political intrigue will appeal to adult fans of spy novels, thrillers, and science fiction." —Publishers Weekly (starred review) on Shadow of the Hegemon
"An undeniable heavyweight. . . . This book combines Card's quirky style with his hard ethical dilemmas and sharply drawn portraits." —New York Daily News on Ender's Game
"Card has taken the venerable SF concepts of a superman and an interstellar war against aliens, and, with superb characterization, pacing, and language, combined them into a seamless story of compelling power." —Booklist on Ender's Game
"The novels of Orson Scott Card's Ender series are an intriguing combination of action, military and political strategy, elaborate war games and psychology." —USA Today
"You can't step into the same river twice, but Card has gracefully dipped twice into the same inkwell--once for Ender's Game, and again for his stand-alone 'parallel novel'. As always, everyone will be struck by the power of Card's children, always more and less than human, perfect yet struggling, tragic yet hopeful, wondrous and strange." —Publishers Weekly (starred review) on Ender's Shadow
"The publishing equivalent of a Star Wars blockbuster." —New York Daily News on Ender's Shadow
"Ender's Shadow is entertaining, fast-paced science fiction." —CNN Interactive
"The author's superb storytelling and his genuine insight into the moral dilemmas that lead good people to commit questionable actions make this title a priority purchase for most libraries." —Library Journal on Ender's Shadow