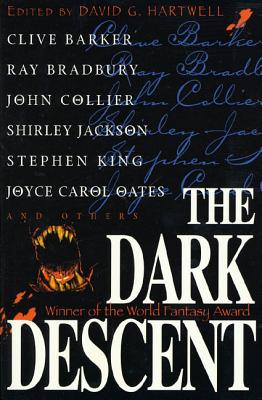 The Dark Descent
Paperback

* Individual store prices may vary.
Description
Winner of the World Fantasy Award for Best Anthology. A gigantic, superlatively edited historical overview of horror fiction." —Chicago Sun-Times

In The Dark Descent, hailed as one of the most important anthologies ever to examine horror fiction, editor David G. Hartwell traces the complex history of horror in literature back to the earliest short stories. The Dark Descent showcases the finest of these ever written--from the time-honored classics of masters of the form, including:

Edgar Allan Poe
D.H. Lawrence
Edith Wharton
Flannery O'Connor
Henry James
Ambrose Bierce
Shirley Jackson
Stephen King
Clive Barker
Ray Bradbury
John Collier
H.P. Lovecraft
Harlan Ellison
Robert Bloch
Richard Matheson
Philip K. Dick
Joyce Carol Oates

and many more.
Praise For The Dark Descent…
"A gigantic, superlatively edited historical overview of horror fiction." —Chicago Sun-Times

"For a sample of the current excellence and variety of horror, one could do no better." —New York Newsday

"An important work which belongs in every library." —The West Coast Review of Books
Tor Books, 9780312862176, 1024pp.
Publication Date: January 15, 1997
About the Author
Clive Barker is the best-selling author of more than twenty novels and collections of short stories that range from horror to fantasy. He has had much success in film, directing Hellraiser and Nightbreed.

David G. Hartwell, called "an editor extraordinaire" by Publishers Weekly, is one of science fiction's most experienced and influential editors. As an editor with Berkley Books, Pocket Books, William Morrow, and Tor Books, he has worked with many of the field's best authors and edited many award-winning works. He is the author of Age of Wonders, a nonfiction study of the science fiction field. Among his many anthologies are the bestselling World Treasury of Science Fiction and the World Fantasy Award winner The Dark Descent. He is the holder of a Ph.D. in comparative literature from Columbia University, a winner of the Eaton Award, and has won three Hugo Awards for his editorial work.

Ray Bradbury (1920-2012) was one of science fiction's greatest luminaries. The author of such classic, important works as Fahrenheit 451, The Martian Chronicles, and Something Wicked This Way Comes, Bradbury was honored in 2007 with a Pulitzer citation "for his distinguished, prolific and deeply influential career as an unmatched author of science fiction and fantasy." Other distinctions include a 1954 honor from the National Institute of Arts and Letters, a Medal for Distinguished Contribution to American Letters from the National Book Foundation in 2000, and the National Medal of Arts, awarded by President George W. Bush and Laura Bush in 2004. He was also an Emmy Award-winning screenwriter. Born in Waukegan, Illinois in 1920, Bradbury spent most of his life in Los Angeles, where he passed away in 2012.

John Collier (1901-1980) was an award-winning author best known for his short stories, many of which published in The New Yorker. His short story "Fancies and Goodnights" won an Edgar Award; Collier's story collection of the same name later won the International Fantasy Award.

Shirley Jackson (1916-1965), the author of The Haunting of Hill House, Hangsaman, Life Among the Savages, and We Have Always Lived in the Castle, is considered one of the masters of modern gothic fiction. She is perhaps best known for her short story "The Lottery."

Stephen King was born in Portland, Maine in 1947. In the spring of 1973, Doubleday & Co., accepted the novel Carrie for publication, providing him the means to leave teaching and write full-time. He has since published over 40 books and has become one of the world's most successful writers. Stephen lives in Maine and Florida with his wife, novelist Tabitha King. They are regular contributors to a number of charities including many libraries and have been honored locally for their philanthropic activities.

Joyce Carol Oates has published more than 40 novels and is the recipient of several awards, including the National Book Award, the PEN/Malamud Award for Excellence in Short Fiction, and the Normal Mailer Prize for Lifetime Achievement. Her bestselling novels include them, We Were the Mulvaneys, and Blonde.