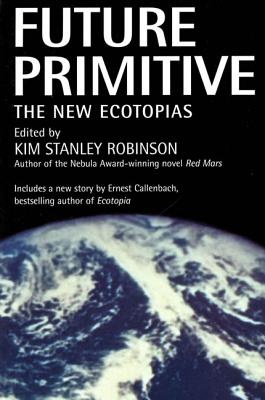 Future Primitive (Paperback)
The New Ecotopias
Tor Books, 9780312863500, 352pp.
Publication Date: June 15, 1997
Other Editions of This Title:
Paperback (11/6/2008)
* Individual store prices may vary.
Description
Ernest Callenbach's classic novel Ecotopia sparked a movement that is growing rapidly around the world. Ecotopians embrace high technology as a tool for preserving and living gently within the natural environment of Planet Earth.
Kim Stanley Robinson has gathered in this volume Future Primitive bright tales of Ecotopian futures, as well as a few cautionary ones. Writers and poets, from Gary Snyder to Ursula K. LeGuin to Ernest Callenbach himself have contributed their visions, along with Pat Murphy, Paul Park, R.A. Lafferty, Rachel Pollack, Garry Kilworth, Robert Silverberg, Gene Wolfe, Howard Waldrop, Carol Emshwiller, Frederick Turner, and Robinson Jeffers.
About the Author
KIM STANLEY ROBINSON is an American science fiction writer. He is the author of more than 20 books, including the international bestselling Mars trilogy: Red Mars, Green Mars, Blue Mars, and more recently Red Moon, New York 2140, and 2312, which was a New York Times bestseller nominated for all seven of the major science fiction awards—a first for any book. 2008 he was named a "Hero of the Environment" by Time magazine, and he works with the Sierra Nevada Research Institute, the Clarion Writers' Workshop, and UC San Diego's Arthur C. Clarke Center for Human Imagination. He has won the Hugo, Nebula, Locus, and World Fantasy awards. In 2016 he was given the Heinlein Award for lifetime achievement in science fiction, and asteroid 72432 was named "Kimrobinson." In 2017 he was given the Arthur C. Clarke Award for Imagination in Service to Society.