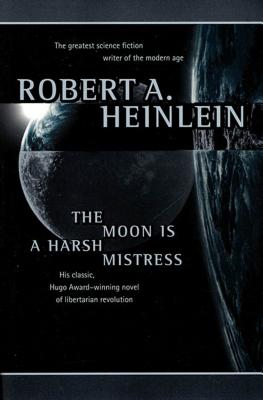 The Moon Is a Harsh Mistress
Paperback

* Individual store prices may vary.
Other Editions of This Title:
Digital Audiobook (4/30/2000)
Paperback (7/31/2018)
Compact Disc (6/1/2010)
MP3 CD (6/1/2010)
Compact Disc (6/1/2002)
Description
Robert A. Heinlein was the most influential science fiction writer of his era, an influence so large that, as Samuel R. Delany notes, "modern critics attempting to wrestle with that influence find themselves dealing with an object rather like the sky or an ocean." He won the Hugo Award for best novel four times, a record that still stands. The Moon is a Harsh Mistress was the last of these Hugo-winning novels, and it is widely considered his finest work.
It is a tale of revolution, of the rebellion of the former Lunar penal colony against the Lunar Authority that controls it from Earth. It is the tale of the disparate people--a computer technician, a vigorous young female agitator, and an elderly academic--who become the rebel movement's leaders. And it is the story of Mike, the supercomputer whose sentience is known only to this inner circle, and who for reasons of his own is committed to the revolution's ultimate success.
The Moon is a Harsh Mistress is one of the high points of modern science fiction, a novel bursting with politics, humanity, passion, innovative technical speculation, and a firm belief in the pursuit of human freedom.
The Moon is a Harsh Mistress is the winner of the 1967 Hugo Award for Best Novel.
Praise For The Moon Is a Harsh Mistress…
"We proceed down a path marked by his ideas." —Tom Clancy
Orb Books, 9780312863555, 384pp.
Publication Date: June 15, 1997
About the Author
Robert A. Heinlein (1907-1988) is widely acknowledged to be the most important and influential American science fiction author of the twentieth century. He won science fiction's Hugo Award for Best Novel four times, and in addition, three of his novels were given Retrospective Hugos fifty years after publication. He won Science Fiction Writers of America's first Grand Master Award for his lifetime achievement. Born in Butler, Missouri, Heinlein graduated from the United States Naval Academy and served as an officer in the navy for five years. He started writing to help pay off his mortgage, and his first story was published in Astounding Science-Fiction magazine in 1939. In 1947, he published a story in The Saturday Evening Post, making him the first science-fiction writer to break into the mainstream market. Long involved in politics, Heinlein was deeply affected by events such as the bombing of Hiroshima and Nagasaki and the Cold War, and his fiction tended to convey strong social and political messages. His many influential novels include Starship Troopers, Stranger in a Strange Land, The Moon Is a Harsh Mistress, and Time Enough for Love.
or
Not Currently Available for Direct Purchase